Africa

By Jane Stanbury
The global pandemic has, like everywhere else, disrupted business aviation in Africa. According to data from WINGX, 2020 began well showing significant increases in weekly departures and flights, movements were up by around 51% in the first quarter.
Then the world locked down and from March to September jet flights reduced by 24% year-on-year across the continent. Significantly these figures don't include turboprop activity. If added in the continental fleet, performance is well under par.
However, it's not all doom and gloom. Nigeria experienced the highest number of departures on the continent with positive growth of 47.2% compared with March to September of last year. This has been buoyed by the increasing use of super-midsize aircraft such as Challengers, which are being used for internal shuttles. Algeria, Congo, Kenya and Libya have also seen significant growth for the same March to September period.
In Ethiopia, Dawit Lemma, CEO and Founder of Krimson Aviation says his company, which has just marked five years of business, has experienced some of its busiest weeks yet. The uptick has been driven by a mix of medevac, government, investment, humanitarian, crew rotation and repatriation flights. Lemma has also seen a number of notable changes across the sector.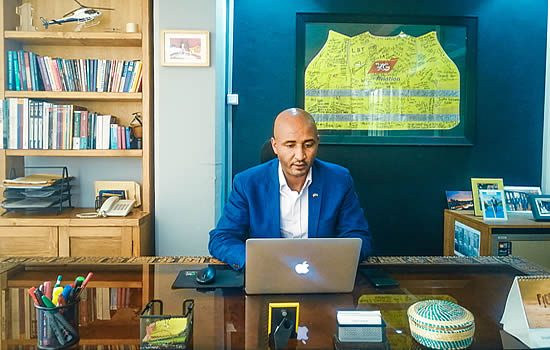 Dawit Lemma, CEO and Founder of Krimson Aviation
Permits continue to be a challenge, yet the pandemic has stimulated processing change in a number of countries. Ethiopia and Somalia are now accepting requests digitally. and processing times are being slashed from several days, to a couple of hours. This is particularly important when it relates to medevac flights where timing is of the essence. "There is a new understanding of the importance of what business aviation brings and that is supporting changes in permit processing across the continent," says Lemma, "even if the fees are increasing in some countries to make up for lost air traffic revenue. At least the process is modernising which bodes well for the future."
Maximising advantages of business aviation
African business aviation is maximising the opportunity to showcase, where it can, the key advantages of executive aviation. Immediacy, flexibility, and the ability to transport passengers with a reduced risk in terms of exposure to COVID-19 has been welcomed. "We know that business aviation is an economic driver and in some instances this year it's been an economic saviour enabling workforces to travel safely to and from difficult to access sites," says Lemma. "This has been particularly important for nations that rely on natural resources, such as oil and mining. Business aviation ensured crews had the ability to move efficiently."
The profile raising is delivering other benefits too. "The value of interlining is now better understood by national carriers and I'm hoping we can continue to optimise the opportunities presented by linking up business and first class commercial aviation with local business aviation into the future."
Lemma has an optimistic outlook. "Business is tough for everybody right now, but the pandemic has generated new awareness and thinking about business aviation in Africa. We all need to adapt to the new landscape, and while we know it's a long haul back, the evolving infrastructure will better position Africa as a continent where business aviation will thrive once again. It is just going to take time."

---
Jane Stanbury has over 30 years' professional experience working in the media, communications, aviation, and luxury travel sectors.

She has run and sold two successful companies - an educational dot.com and a luxury travel consultancy which was her springboard into business aviation.

She launched Arena Group in January 2017 after a decade working across the aerospace spectrum with Emerald Media, with whom she remains an associate.
Jane provides support to a range of organisations from innovative next-gen start-up companies through to international corporations with marketing, comms and copy-writing services, in addition to writing regular features for a number of trade publications.
She has lived and worked in London, New York, Mallorca, and Japan. She moved to Montreal in Spring 2016 and is now settled there with her aviation consultant husband.
---