Washington, DC:

NBAA shows resilience

NBAA President and CEO, Ed Bolen, speaks to Resilient Aviation about how the industry has shone and the Association's plans for a Virtual NBAA early December.
Were it not for the Coronavirus pandemic, we would be gathering in Orlando, FL, this week for the annual NBAA-BACE Convention.
How do you feel the industry is fairing through this prolonged crisis?
It's certainly a mixed picture. Tens of thousands of workers have been laid off and flights at many airports dipped by half or more. As you've seen, sales reports from the General Aviation Manufacturers Association (GAMA) have been rather grim for the year, as companies and operators hold off on new aircraft purchases.
That said, we're also seeing the potential for business aviation to attract new clientele and flight activity, particularly in the charter market. Much of that has come from passengers left with few alternatives for business travel as commercial airlines have reduced or even eliminated services to smaller communities. Mobility will certainly play an essential role in restoring our economy, and business aviation will be an important part in helping the nation emerge from a moment unseen in recent history.
What are your thoughts on how business aviation has responded to COVID-19?
As the devastating effects from COVID-19 became known, our entire industry mounted an unprecedented response to the crisis. That includes companies of all sizes - from the largest business aircraft OEMs to small companies and entrepreneurs - revamping their operating models and production lines to build respirators, face shields and other personal protective equipment.
Additionally, companies and individuals have donated supplies and food to those in greatest need of support during this time, and volunteer pilots continue to transport critically ill patients, along with medicines, doctors, specimens and testing supplies. From expediting lab testing of COVID kits to ensuring cancer patients remain able to travel for treatment throughout this crisis, business aviation has been there to lend a hand wherever we could.
We've highlighted dozens of these stories on our website, and there are hundreds more out there. Our industry has never failed to respond in times of crisis, and the very best of business aviation has truly been showcased throughout the pandemic.
Another outcome from this crisis has been renewed focus on the aviation industry's environmental impact. How has business aviation responded?
The noticeable reduction in greenhouse gas (GHG) emissions around the globe - as international travel restrictions and regional lockdown efforts have stifled demand across all modes of air, land and sea transport - hasn't gone unnoticed. Although global business aviation operations represent a tiny fraction of overall CO2 emissions, our industry continues to work pro-actively along several fronts to reduce that already-low carbon footprint in the years ahead.
One of the most promising and accessible means to lower business aircraft carbon emissions is sustainable aviation fuel (SAF). NBAA has worked to promote SAF adoption for more than a decade, including through educational materials highlighting its use as a safe, drop-in replacement for conventional jet fuel, as well as through events across the country and around the world demonstrating the fuel's many benefits to operators.
In September, business aviation stakeholders convened online for a first-of-its-kind Virtual Business Aviation Global Sustainability Summit. It brought together industry leaders, executives and representatives from business aviation OEMs and a host of other noted experts and officials to discuss pathways to accelerate the market for SAF.
Business aviation has an important role in the global sustainability conversation. The Virtual Business Aviation Global Sustainability Summit was a watershed moment for our energetic, innovative and international industry as we all work toward a greener, more sustainable future.
Where else are we seeing innovation across this industry?
Business aviation has always been characterized by innovation and resourcefulness, and we've seen that as much as ever, even in this COVID moment.
For example, operators have brought new thinking to sanitizing aircraft and all other aspects of performing a safe flight, from point to point. From implementing new flight procedures for passengers to touch-free transactions at FBOs, our industry has successfully re-imagined what a mission even looks like.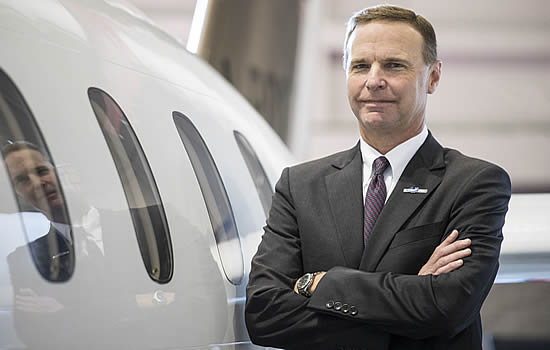 Another area in which we've seen tremendous innovation is in the emergence of advanced air mobility (AAM) to revolutionize the way people and cargo move across the world's airspace. It also brings the potential to expand the aviation workforce with thousands of people bringing modern skillsets to areas ranging from robotics and software engineering, to digital marketing.
These efforts have not waned during the COVID-19 crisis, with a host of innovative companies and organizations continuing to work on air mobility solutions, electric-powered vertical takeoff and landing aircraft and the air traffic management infrastructure necessary to support large-scale AAM operations. We're also seeing new investment in these areas, indicating the industry's enthusiasm and eagerness to see AAM become a reality. It really is an exciting time.
After cancelling NBAA-BACE this year due to COVID-19, what are your organization's future plans for conventions?
While it's certainly unfortunate that we had to cancel our show in Orlando, FL this year, in its place we have launched a game-changing event for connecting people and companies. Taking place during December 2nd-3rd, the Virtual Business Aviation Convention & Exhibition (VBACE) marks the first-ever, completely immersive online business aviation trade show.
Part of the NBAA GO network of virtual conferences the association has produced for other events this year, the two-day VBACE is free for NBAA members to attend and will incorporate many of the traditional elements of NBAA's successful live events. That includes virtual exhibit booths, keynote speakers, product demonstrations, education sessions and more.
Each day of the show will feature inspirational keynote speakers from the aviation community and beyond. Attendees will also be able to connect strategically with exhibiting companies by product category and other quick-search criteria, with plentiful networking opportunities and dedicated subject-matter lounges in which they may virtually interact with their peers.
While we all look forward to the day when we may once again come together in person at NBAA-BACE, this new event offers an exciting path to continue engagement across our industry. VBACE is not merely a substitute for our annual convention; this first-of-its-kind online convention will propel the event into the digital space, offering new and exciting opportunities.
We aren't simply moving online, we're moving ahead.

---
Ed Bolen became the president and CEO of the National Business Aviation Association (NBAA) in Washington, DC in September 2004. Prior to joining NBAA, he was president and CEO of the General Aviation Manufacturers Association (GAMA) for eight years. He joined GAMA in 1995 as senior vice president and general counsel and was elected president and CEO in November 1996.
In 2001, Bolen was appointed by President Bush to serve as a member of the Commission on the Future of the US Aerospace Industry. Ed was nominated by President Clinton and confirmed by the US Senate to serve as a member of the Management Advisory Council (MAC) to the Federal Aviation Administration (FAA). He chaired the council from 2000 to 2004. He is a member of the board of directors of the National Aeronautic Association and serves on the Aviation Advisory Board of the Mitre Corporation, a federally funded research and development corporation.
Prior to his association career, Bolen was majority general counsel to what is now the Senate Committee on Health, Education, Labor and Pensions. He also served as legislative director for US Senator Nancy Kassebaum (R-KS) and was a key player in the passage of the General Aviation Revitalization Act of 1994.
Ed is a recreational pilot, and a competitive tennis player.
---