How far away is practical electric flight?

By Jeremy Parkin
On a recent Town Hall webinar run by Revolution.Aero, the topic of alternative-powered aircraft was discussed from a number of different angles. Here are three viewpoints:
The analyst
Charles Armitage, an equity analyst with Citi Research, had the advantage of an observer's view as the other speakers were all getting their hands dirty on projects - whether that be electric engines, hydrogen power, battery technology or aircraft.
He sees electric power having a "reasonable chance" in the aviation world. With an initial focus on urban air mobility projects and a flight range of five to 30 miles (e.g downtown to airport links) to prove the technology.
Looking at power sources, Armitage considers hybrid-electric as a short term solution, filling the gap while electric power systems and infrastructure develops - whether that is a battery-electric or fuel-cell electric (e.g.with hydrogen). Battery technology is a clear focus - watch for energy density figures (measured in wh/kg - watt hours per kg) in the range 500-750, the sweet spot to beat traditional fossil fuels. As a comparison in the automotive world, today's Tesla Model 3 battery is around 250 wh/kg.
The electric motor company
MagniX made mainstream news in December 2019 when Canadian operator Harbour Air first flew a six-passenger de Havilland Beaver floatplane powered by one of their 750hp magni500 engines. In May 2020, this was followed by the first flight of a similarly retrofitted Cessna 208B Grand Caravan in partnership with Seattle-based AeroTEC. Separately, MagniX are also working with eViation on their Alice Aero all new aircraft, which targets a cruise speed of 240 knots, and a range of 540nm (+reserve) for nine passengers and two crew.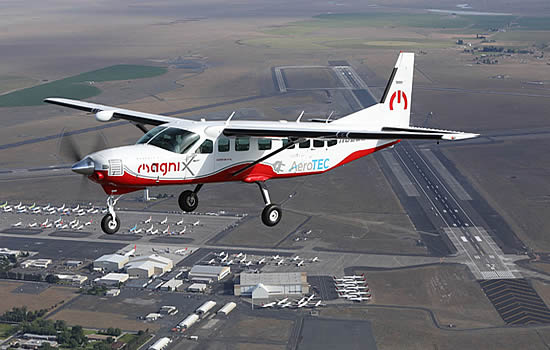 Aerotec-Magnix Cessna 208B
CEO Roei Ganzarski estimates these three aircraft will be certified for passenger operations within three years, with the Beaver coming first in 2022 and the other two in 2023. He added that the FAA and EASA are actively working on rule changes for electric power and that he has "never seen the FAA more eager to learn". The challenge is more around which technologies the regulators should spend their time on, as there are so many different approaches to clean flying being proposed. www.MagniX.com
The Regional Airliners
Wright Electric CEO Jeff Engler leads a company focusing on the propulsion/airframe integration, and expects deliveries of practical electric-powered 150 to 200-seat passenger airliners in 10-15 years. Under the corny name of "Wright 1", the renderings of the aircraft on their website feature in the colours of easyJet.
Engler agrees with Armitage's figures for batteries with a minimum 500 wh/kg, while acknowledging there is a market gap owing to the fact that so few people are working on battery technology. His ideal is 10 times the number of engineers working in this field to bring practical solutions sooner - perhaps a new direction for aviation engineers in pandemic times? Wright Electric is setting its sights on an airliner with a two-hour range, swappable battery packs and an engine development programme, which sees ground running in 2021 and flight testing in 2023. www.WeFlyWright.com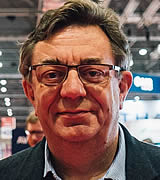 ---
Jeremy Parkin launched the world's first helicopter industry news website in 1999, and has focused his aviation journalism on the rotary-wing world ever since. His website HeliHub.com brings together both news stories, safety data and Jeremy's insight on the industry, which is under-pinned by an extensive network of contacts. HeliHub is run by a globally based team. Jeremy worked for one of the largest IT companies for a number of years, and managed teams spread around the globe from his home office in the UK.
---