Canada:

Flying Colours keeps it clean and safe

By Jane Stanbury
With the Covid-19 pandemic changing current and future aircraft owners' priorities, clean and pure air has moved to the top of the list when considering aircraft interiors and the cabin environment.
Flying Colours Corp., specialising in maintenance, repair, overhaul and completions, quickly responded to the paradigm shift by signing an agreement with Aviation Clean Air (ACA) and is now installing the ACA Needle Point Bi-Polar Ionization (NPBI) Components on in-service aircraft at its Canadian and American locations.
ACA Needle Point Bi-Polar Ionization (NPBI) Component in ducting
Perhaps the most notable feature of the ACA purification system is its ability to kill pathogens, including the prominent coronavirus, in the air and on surfaces throughout the aircraft, including the flightdeck. With the imperative to provide a safe flying environment the installation of the ACA system means passengers and crew can enjoy the benefits of pure air circulating throughout the aircraft without experiencing harmful ozone or chemicals. In addition to killing pathogens, the component eliminates odours and other allergens which serves to enhance the overall air quality and passenger experience.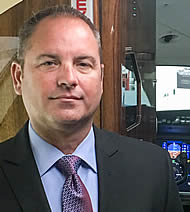 Flying Colours has already installed the NBPI components in cabin upgrades of three Bombardier Challenger 300 aircraft and according to Kevin Kliethermes, Director of Sales for Flying Colours Corp. the company has a number of quotes out for equipping other aircraft types. "There has been growing interest in the product since the announcement was made in July as customers are thinking very differently about the air quality of their aircraft. Previously concerns were related to cabin pressure and humidity, but since the pandemic hit owners and operators are thinking about how to minimise risks to their health when flying. We've installed this type of cabin system previously but right now pretty much the first question anybody asks when talking refit is, how can we help keep the air clean and passengers and crew safe?"
Kliethermes anticipates that the equipping of aircraft with clean air systems will become the norm in the new normal, even once a vaccine has been made available. "Air cleaning technology options will become a standard request for cabin retrofits as customers want to protect themselves from any existing or future pandemic situation. We are receiving a lot of inquiries with many of our customers asking to have this specified as part of a wider scale upgrade or refit."
The design team at Flying Colours is also considering other options for making the cabin safer, not just for crew and passengers, but for any visitor to the aircraft. Recent interior designs have reduced the amount of touch points in the cabin, particularly in relation to soft goods, and upped the amount of personal protection equipment stowage options. "Maintenance crew have always been required to wear shoe-covers and hair nets so we've always had to design in stowage for them, but now we're being asked to modify these stowage areas to make room for facemasks and hand sanitizers," says Kliethermes.
"We will continue to explore all the options and technology available so we can ensure that customers can make informed decisions about mitigating risks when travelling. The safety and satisfaction of our customers have always been at the forefront of what we do so we are learning to adapt to ensure our clients are satisfied and protected," he concluded.

---
Jane Stanbury has over 30 years' professional experience working in the media, communications, aviation, and luxury travel sectors.

She has run and sold two successful companies - an educational dot.com and a luxury travel consultancy which was her springboard into business aviation.

She launched Arena Group in January 2017 after a decade working across the aerospace spectrum with Emerald Media, with whom she remains an associate.
Jane provides support to a range of organisations from innovative next-gen start-up companies through to international corporations with marketing, comms and copy-writing services, in addition to writing regular features for a number of trade publications.
She has lived and worked in London, New York, Mallorca, and Japan. She moved to Montreal in Spring 2016 and is now settled there with her aviation consultant husband.
---