United Kingdom:

Flight Deck Wingman builds a supportive community

By Alison Chambers, Resilient Aviation editor.
Commercial airline pilots who have suddenly found themselves on furlough or made redundant owing to COVID-19 cutbacks have turned to Flight Deck Wingman for peer support and career advice.
Set up over four years ago by former Navy Sea Harrier pilot Andrew Neofytou to help military pilots transition to commercial flying, the business runs training sessions at Lasham Airfield, the home of British gliding, where he is also an avid competition glider pilot.
His Surrey-based business has been pro-active these past eight months helping pilots on a practical and emotional level find new work. Support with CV prep, interview training, pilot training assessments right through to flight school entry assessments for aspiring pilots, are among its catalogue of services.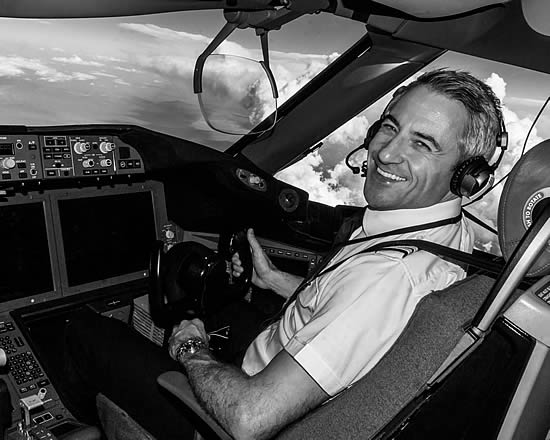 Andrew Neofytou
From its inception, Flight Deck Wingman has also enabled one-to-one training delivery online - a key success driver despite since COVID-19, says Andrew, noting the success rate for pilots who reach and pass the interview and assessment stages of airline or flight school or complete its pilot assessment and pre training courses - is now up to 99%.
Since August, Flight Deck Wingman has been working alongside Motion Flight Training at Gatwick to offer redundant pilots 'free flight' days. The organisation is registered with the Department of Work and Pensions (DWP) to provide funding for LPC revalidation for pilots currently unemployed.
Testament to Andrew's reputation in the industry, three training providers - Aeros Flight Training, CRM Aviation Europe and Lasham Gliding Society each offered Flight Deck Wingman free venue hire to support pilots in need during a turbulent 12 months in the industry. Andrew cited a donation of over £45k worth of free training and mentoring to help out of work pilots and to date he has helped over 120 of them - including former Thomas Cook and Flybe pilots. When the latter of these fell into administration prior to the lockdown in March, these free courses were announced online on social media. A total of 100 were places filled within just seven minutes.
Advocates wider recognition for pilots
"When we come out of this I'd like to see a paradigm shift toward a wider recognition for pilots," says Andrew, currently a B787 first officer for a leading UK airline. "The industry sadly (through layoffs and redundancies) is saying goodbye to a great pool of talent. Airlines don't showcase their pilots – yet they are great ambassadors for their employers. Andrew is also keen to help minority pilots too, pointing to a lack of notable women pilots and other minority pilot groups. "In 15 years of commercial flying I have shared a flightdeck with just 10 female pilots, three black pilots and two LGBT pilots," he says. He would be very interested in recruiting a more diverse team of Wingman mentors to the team in due course.
Andrew's podcast "For Flying Out Loud", the latest episode featuring "Women in Aviation International" is available here https://www.buzzsprout.com/1016389