At the leading edge of simulator training

By Keith Mwanalushi
As IATA highlighted recently, training organisations have faced major difficulties with their training operations being significantly disturbed owing to COVID-19. Despite the challenges, some pilot training specialists are flying above the turbulence.
In September, London Oxford Airport, UK-based Leading Edge Aviation announced another significant phase of growth with the purchase of a brand new MPS Airbus A320 FTD-1 Simulator, bringing the delivery of Airline Pilot Standards Multi-Crew Cooperation (APS MCC) in house.
This is significant as both the Modular and Ab Initio LEAP Integrated courses will now be delivered fully at the facility. Students are taken through ground school, through their foundation flying, advanced flying, advanced UPRT and then onto the final phases including the APS MCC and graduate airline preparation course.

Dave Alexander, Chief Operations Officer at Leading Edge Aviation, says the APS MCC is a significant part of the ATPL as it is the only phase where students train in a jet environment and are introduced to airline operations in preparation for their future careers.

Dave Alexander
Leading Edge has 100 students and is taking more
With the COVID pandemic clouding some projections for pilot training in general, Alexander continues to see significant demand for pilot training as a whole, which of course includes simulator training. "In fact, we have over 100 students in the academy currently. In addition to this, our recent September intake has 13 students and we have further courses filling up throughout the rest of the year."
Alexander explains that within the courses, simulator training will include time using both the Alsim DA42 and the new A320 simulators:
"Both perform important functions, our DA42 sim is an exact replica of our fleet of Diamond DA42 aircraft, enabling our students to switch seamlessly between the two throughout the varied training phases such as MECPL and MEIR. This will then be complemented by the A320 sim when they reach their APS MCC." He says both phases represent substantial milestones in commercial pilot training.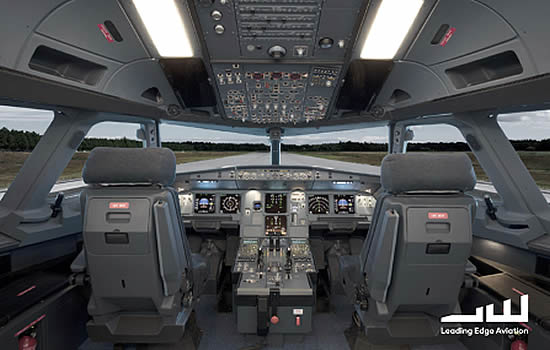 Delivery of the A320 sim is due in early October.
The new simulator features a full cockpit from a previously active aircraft, D-ASTU, an A319-100 last operated by charter carrier, Germania. Leading Edge Aviation worked closely with their partners Multi Pilot Simulations BV (MPS) who secured a real aircraft. "The benefits to this are many, such as, rather than replicating, using a real aircraft means components are authentic and in exactly the right place." The A319 was built in 2008 and scrapped in 2019.
The simulator includes an Airbus data-pack for added realism and features CFM56 (ceo) engines.
Despite the challenges provided by COVID, Alexander says the process of acquiring an actual A320 cockpit was relatively simple. "At short notice and with a great deal of assistance from the CEO, Captain Phillip Adrian, our team visited MPS in February of this year. Despite lockdown, the relationship and build progressed and the project was realised relying on an extensive use of available virtual comms like Teams, including remote factory acceptance testing."
Delivery of the sim is due in early October, followed soon after by CAA certification and delivery of the first courses.

---
Twitter: @KeithMwanalushi

An aviation enthusiast since childhood,

Keith Mwanalushi

started his aviation career as an account executive at a public relations firm. He was responsible for coordinating PR campaigns on behalf of British Airways in Zambia. Upon moving to the UK in 2004, Keith has fulfilled several roles as an aviation journalist and editor for several industry leading publications including African Aerospace, Arabian Aerospace, Low cost & Regional Airline Business and Airline Cargo Management. He is currently editor-in-chief at AviTrader MRO. Keith has accrued 20 years' experience in airline PR, as a qualified practitoner and aviation journalism collectively. He lives in London and his closest 'regional' airport is London Heathrow. Keith enjoys travelling for business and leisure and can't wait to get airborne again.
---