United Kingdom
1000 times cleaner with Vertigo
Vertigo Aviation Detailing has achieved the milestone of its 1000th aircraft clean.
In response to the COVID pandemic Vertigo committed itself from the earliest weeks of the outbreak to providing complete aircraft disinfections to sanitise the COVID threat and this service is ongoing.
Managing Director Luke Dale says, "I'm incredibly proud of what the Vertigo team have achieved in these challenging times for all involved with aviation. We look forward to continuing to work with our existing clients, and to welcoming new customers who place value on a quality aircraft detailing service."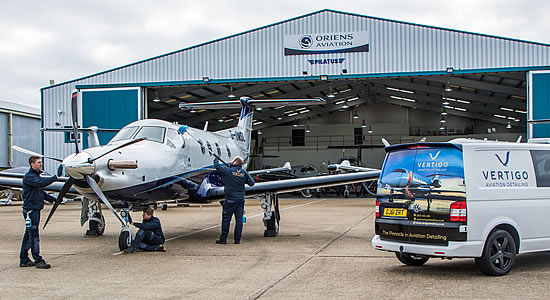 Vertigo with Oriens Aviation at London Biggin Hill Airport.
This 1000th milestone was reached with a booking from London Biggin Hill based Oriens Aviation, the UK's exclusive Pilatus authorised Sales and Service Customer Support provider, for whom Vertigo has been appointed as sole provider for aircraft cleaning services.
Oriens Aviation Founder and CEO Edwin Brenninkmeyer says, "Pilatus has been voted number one in customer service for eighteen consecutive years by Professional Pilot Magazine and this is what we strive to uphold with every customer touch-point at Oriens. The Vertigo team delivers superior aircraft detailing quality on every job, using only the manufacturer approved products, helping us present the aircraft to our customers in the best possible condition. We are delighted to be working with Vertigo's skilled and dedicated team."
Vertigo has established itself as one of the UK's leading providers for interior, exterior, and disinfection aircraft cleaning, specialising in an extensive range of aircraft types from General, Business, Commercial and Military Aviation. Their team is mobile and able to attend any UK airport to provide detailed aircraft cleaning works.