United Kingdom:

Testing times for the UK's aviation sector

By Chloe Wilson
"The UK might be a small island on the edge of Europe, but we are an economic powerhouse."
So stated John Holland-Kaye, CEO of London Heathrow Airport during his keynote speech at the 'virtual' Aviation Club UK on Wednesday 2 September. As one of the most connected airports in the world Heathrow is not only vital to the UK's economic recovery post COVID-19, but it is also helping lead the recovery of the wider aviation industry.
Highlighting that UK's primary hub lost more than $1 billion in the first half of 2020, Holland-Kaye underlined that airports are capital intensive projects and while "revenues have dried up, costs remain high." But as a key economic driver the UK's aviation sector must not be left behind.
While other countries including the US, Germany and France have demonstrated an understanding for the urgent need to support their aviation industries with financial packages, the UK hasn't offered any specific support for aviation beyond the job retention scheme.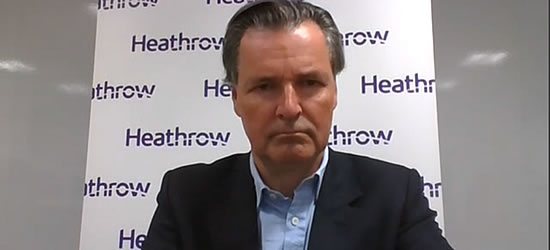 John Holland-Kaye, CEO of London Heathrow Airport, was the keynote speaker at the 'virtual' Aviation Club UK.
"The issue is one of bandwith," said Holland-Kaye. "The UK Government is simply too stretched dealing with the health crisis to deal with the looming economic crisis. They need our help to understand the role aviation can play in leading the UK's recovery and in re-opening borders. It's hard enough for government as it is, so let's not stand on the sidelines and criticise. We need to work together to avoid the health pandemic becoming an economic pandemic," he added.
"Quarantine roulette is not a solution"
Playing "quarantine roulette" is not a solution. COVID-19 testing is the lifeline that the UK's aviation sector needs to get back on its feet, said Holland-Kaye. In collaboration with Collinson and Swissport, Heathrow already has a facility for COVID-19 testing set up and ready to use for wide-scale testing. "We just need the green light from the government…. In the absence of an effective vaccine, rapid, accurate, cost-effective testing will help restore passenger confidence, help boost demand and get Global Britain up and running," he said.
Ultimately the aim is to have testing available before a passenger flies, but that requires the implementation of a common international standard for biosecurity. But whether it's before departure or on arrival Holland-Kaye is adamant that testing will be part of the final answer in reopening borders.
---
Chloe (Wilson) Greenbank

wrote her first airline magazine nearly two decades ago and has been immersed in aviation magazines ever since. She is a highly experienced editor and reporter who has worked for over a decade in the publishing sector specialising in the global aerospace industry. As senior editor at one of the world's leading travel media companies, Ink, she was tasked with launching and overseeing various titles including two inflight magazines for Brussels Airlines. With a solid understanding of the inflight market, she has also contributed to magazines for airlines including easyJet, MyTravel, Thomas Cook, Virgin Express, Ryanair, British Mediterranean Airways, Air Burkina and Korongo Airlines.
In 2017 Chloe moved over to the B2B publishing industry when she joined HMG Aerospace for whom she edits Regional Gateway and contributes to a number of titles including LARA and Inflight. She also contributes to the Times Aerospace Group's African Aerospace. Having strengthened her knowledge and understanding behind the global aviation community Chloe has been a working journalist on the Emerald Media team since early 2018, primarily supporting its client Air bp.
---