United Kingdom:

Business aviation entrepreneurs lead rush to innovate

By Liz Danner.
Business aviation continues to show considerably more resilience than commercial airlines during this pandemic, but the message at last week's Corporate Jet Investor Town Hall was clear - "don't waste this downturn."
Rising to the theme on how technology and data can drive the sector forward WINGX Managing Director Richard Koe urged: "Now is the time to innovate."
The industry has made good efficiency gains, including using business jets on medevac missions and repatriation flights; bigger charter operators opting for floating fleet models. More collaboration, facilitated by increased digitalization is inevitable, but better disciplines around revenue and yield management are required, he noted.
Over the long, truncated summer, charter has been leisure-focused. Now into September we must hope the business travel market comes back. The threat of (Covid-19) infection; nervousness re airports; withered airline traffic; heightened hygiene and sanitization and fewer options in first class (airline) services makes business aviation even more attractive. It will survive, but expect to see some erosion by the small players, Richard warned.
Original disruptor Avinode reported that demand for empty leg charter in August was 'three times higher than August 2019.' especially in the very light and light jet sector. Price quotes are getting back to normal. Yet the last few months saw an average 10 to 15% reductions in charter rates, which can't be sustainable long-term. Heavier jet rates are 10% down. It's too early to see how the fourth quarter will be, said Avinode Head of Insights and analytics Harry Clarke, but I'm cautiously optimistic.
New customers have shown to be much more price sensitive, he noted. If we have done a good job looking after them, then we will get lots of new leisure and business travel customers.
Smart technology and data intelligence are central to the strategy of newly launched flight-sharing marketplace AirPool. Its CEO is 35-year aviation expert Peter Evans, previously with Virgin Atlantic, SilverJet and most recently, Surf Air.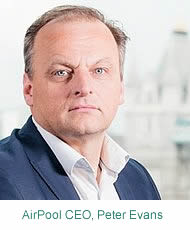 The UK (with the second largest aircraft registry in Europe for business and GA aircraft) is AirPool's 'nursery.' It is focused on providing regional connectivity through identifying communities currently ill-served by airline service or by time consuming and stressful surface transport. Typically, business aviation utilization averages 450 to 750 hours pa, versus 2,000 to 4,000 pa by commercial airlines, so AirPool is confident it has access to the capacity required to operate these routes.
"The recent demise of Flybe has left whole tracts of the UK without commercial air service," noted Peter. AirPool believes it can stimulate seat demand whilst offering fares comparable with first-class train fares for the same route (and when more sustainable next-gen hybrid and electric aircraft enter commercial service) down to standard rate rail rates - on shorter routes.
AirPool would act as 'contracting carrier' for per seat sales on routes like Norwich to Liverpool. It will use traditional industry sources of historical data to help identify potential routes, but will complement this by analyzing an additional layer of anonymous and GDPR compliant data available from the mobile telcos. By analyzing this data AirPool will be able to study travellers' activity as they travel by train, by road, or by air around the country to identify clusters of activity that point to potential routes that AirPool could serve.
AirPool has already created a prototype App to accompany the launch of its new corporate website. Full launch is planned for the end of first quarter of 2021 at which time AirPool will offer its demand-led, pay-per-seat model working in partnership with CAA approved operators who have surplus capacity of the appropriate aircraft types suited to sub-regional routes of up to 250 miles in distance.
A favourite is the 8-seat Pilatus PC-12 (when available on an AOC in the UK) with its best in class direct operating costs. The King Air is also a good option, Peter acknowledges.
AirPool is also working on a project model based on a 19-seat aircraft for a disconnected business community, which has indicated a willingness to pay £400 each way - for what is currently a six-hour road journey.
AirPool could feasibly partner with regional airlines too - serving as a distribution channel to help build its community. Their small size and ability to respond quickly could help identify innovative ways to service a market - versus the 'hit and hope process' that can see an airline start and then withdraw from a route after three months." Peter suggested.
Andrew Douglas' new business, Make Tech Fly, addresses the fact that the air charter industry is one of the most out-dated - synonymous with laborious form filling and countless exchanges between broker and operator. Making data sharing between operators and brokers secure, helping clients keep up with regulations, and protection from GDPR risk, are key offerings. Fraud and fraudulent websites has given the Air Charter Association concern – be it identity fraud, interception of insecure emails (not encrypted) and interception of false Wi-Fi FBO's.
In the Covid world a lot of charter brokers worry about financial hits on flight cancellations - caused by people unable to fly / or as a result of the sudden closure of borders. We can oversee the secure transmission of medical documents to ensure that if there is to be a cancellation, done prior to an aircraft moving, costs reduce for everyone, he said.
Contactless FBO experience
Where you don't physically pass passenger documents (using biometric security solutions) is a priority, and achievable through the pre-approval phase, enabling everyone to feel more comfortable when passengers pass through airports.
Phil Brockwell wants to 'turn back time' - for efficiency
After 22 years in charter sales with Centreline Phil Brockwell has also turned to tech with his new B2B company Quorem (Quote Resource Management). The business, which launches its beta model this November, is an aggregator of information to make better-informed decisions, designed to combat "the lack of money that goes into the profits of charter operators."
Quorem will maximise the yield from charter broker enquiries and make the current 'unmanageable' number of enquiries received day to day sorted, filtered and prioritized to make sales of charters both fun and rewarding, with as few clicks to cash as possible.
Quorem looks at the availability to sell alongside the availability of empty legs for a 'double whammy' opportunity. Instead of selling empty legs, it sells them as retail. "That's how we game-ify it, working in partnership with Quorem's expert software development partner, UniqueX," he says.
Fifteen years ago we would probably receive about 15 enquiries a day with our King Air and Seneca fleet. On the white boards by the end of any given day - the flight was either booked or gone / or had been ruled out. Today, enquiries are off the scale. One reported operator quoted 1,600 flight requests in a day.
Quorem's software can help sell a flight - thereby creating an empty leg by shortlisting the 10 or 15 best matches (for profitability or probability). A solution can be concluded in six clicks using What's App or Outlook. It's fun and quick, but needs to be fast to get through 300 inbox inquiries. ROI is looking to be 4.500% !! on light to mid jets, suggests Phil.
This isn't taking people out of aviation, he says, rather it encourages operators to focus on the top 20% enquiries. Quorem provides the tech and gives you a weblink to just call them. "We want to turn back the time to when you had more interactions . . . when it was more fun.

---
Liz Danner

,

Emerald Media.
---