Thailand:

Ascent prepares for helicopter-based urban mobility launch in Thailand

By Paul Eden.
On-demand helicopter charter provider Ascent has announced its intention to begin operations in Thailand before year end. It's a bold move in the current climate, but Co-founder and COO Darren T'ng says: "The context of the pandemic has accelerated the need for Ascent solutions. Our users have an increased focus on being able to travel in a more time-efficient, crowd-free and controlled environment."
Ascent already operates a similar service in the Philippines and T'ng reports encouraging results since its commercial launch a little over a year ago. "We now fly to more than 17 dedicated locations with a dedicated fleet of nine helicopters, each offering a capacity of between five and 12 passengers."
Describing the company's efforts in Thailand, T'ng says: "Operationally, we're in the beta phase, where we fine tune market-specific operational and customer experience processes. We expect flights to be available to the public by the fourth quarter of 2020, although we're working relentlessly to shorten this timeframe.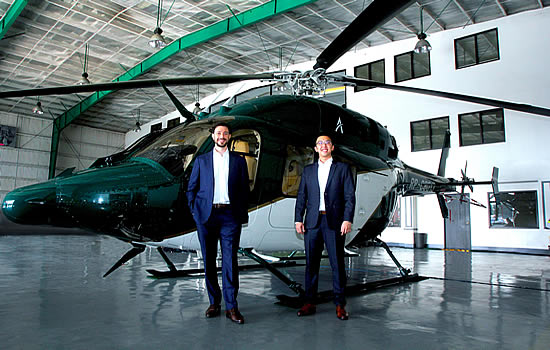 Ascent Founder and CEO Lionel Sinai-Sinelnikoff (left) and Co-founder and COO Darren T'ng with a Bell 429 employed on the company's Philippines operation.
"Users will be able to book on-demand helicopter rides from a dedicated fleet of more than four aircraft, seating up to 10 passengers. That said, we have been and remain open to speaking to further potential partners in synergistic industries such as hospitality, aviation and travel."
In an effort to streamline service entry, Ascent is developing its offer in line with Thailand's existing regulatory framework. It has also been diligent in its selection of aircraft-operating partners, selection SFS Aviation and Advance Aviation in the first instance.
"Safety is paramount to us. We curate operators based on key factors including their culture, safety and security procedures, management, flight planning and training. We look at maintenance standards and programmes, accreditations, track records, mission experience and airworthiness."
Ascent describes itself as an urban mobility provider. It's a phrase that accurately fits the helicopter operation it offers, but usually describes future eVTOL solutions. Is the company looking to become an eVTOL provider? "Definitely," T'ng enthuses. "We are growing Ascent with helicopters, but as soon as eVTOLs become available under regulatory requirements, proving their performance and safety capabilities, we'll welcome them. Ascent is increasing its efforts to catalyse eVTOL service entry. It's important that urban air mobility is sustainable and cost efficient. In line with this, we've committed to climate neutrality, signing the United Nations Climate Neutral Now Pledge, and partnered with eVTOL OEMs, including Urban Aeronautics. We are open to speaking with more potential partners who align with us in moving toward a sustainable, scalable urban air mobility future."
---
| | |
| --- | --- |
| | A life-long, profoundly passionate aviation enthusiast, Paul E. Eden began writing about aircraft in 1996 and became a freelance aerospace writer and editor in 2003. He says his addiction began with a Matchbox Spitfire model kit and the Ladybird Book of Aircraft, around 1975. Since then, he has written for the Official RAF Annual Review and Salute publications, and currently edits and writes Executive and VIP Aviation International magazine. A regular contributor to a number of specialist publications, including Aerospace, the journal of the Royal Aeronautical Society, and airline, cargo and flight test magazines, he also blogs for Runway Girl Network. |
His first book for Bloomsbury, The Official Illustrated History of RAF Search and Rescue, was published on 25th June 2020.
Blog: https://pauleeden.wordpress.com
http://uk.linkedin.com/pub/paul-e-eden/15/9a5/671
Twitter: @TwoDrones
---