Diversifying in the pandemic

By PrivateFly Founder and CEO, Adam Twidell.
After serving 10 years as a RAF pilot, Adam entered private aviation, first as a pilot and then in 2008, as an entrepreneur, co-founding PrivateFly, which pioneered online transactions in on-demand charter.
He grew the business over 11 years to become a leading brand in private charter in Europe and the US, and led PrivateFly's acquisition by Directional Aviation in 2018. Adam remains with the group, as CEO of PrivateFly and as a passionate advocate within the industry for innovation in the charter segment.
This lockdown - how has it been for you - personally and professionally?
At PrivateFly we adjusted really well to working from home during lockdown. We already used Zoom and other digital channels to connect with our colleagues in the US, so were used to online meetings. But with everyone working remotely, it was key for me to keep a sense of togetherness. From the start we had an all-company European briefing twice daily. Initially this was operations' focussed, looking at the fast-changing border restrictions and the challenges these presented. It then evolved into a way for each department to share key updates and daily goals. We keep it brief, but it works well and we're still doing it, even now that some of the team are back in the office.
For me personally, it was a bit noisy at times, as it overlapped with the end of a major building project at my house! That's finished thankfully, and things have shifted as I'm office-based a lot more now. All the digital channels we use play an important role, but being back has reminded me how much easier some things are face-to-face, and how great it is to see the team in 'real life.'
We are also recruiting and growing so for new team members especially, Zoom has its limitations. It's much harder to integrate and for them to feel part of the team if it's all remote.
Your group used the period to announce a new business aviation brand. Tell us about that.
Directional Aviation launched FXAir in August, the newest member of our family. Its focus is premium charter on demand in the US, using second generation Flexjet aircraft - with a foundation collection of premium super mid cabin, large cabin and ultra-long range aircraft including the Bombardier Challenger 300 and the Global Express.
Launching in the teeth of the pandemic really demonstrates the strength of the Directional Aviation family and our strong leadership, under Kenn Ricci. Originally, the plan was to introduce FXAIR in the fourth quarter of this year. When the pandemic began and the strong demand for business aviation became clear, the decision was made to accelerate the launch.
Directional Aviation is continuing the international expansion of PrivateFly at the same time, and we continue to fly our international clients into and within the USA.
PrivateFly also launched a new JetCard for Europe. How does it differentiate from your competitors?
Again, the launch of the PrivateFly Jet Card was something we had already planned, accelerated by the pandemic. Existing clients were looking to fly more frequently, and our sister company, Sentient Jet, was experiencing strong jet card sales in the US. Our card's flexibility sets it apart. At a price point that's very competitive, it gives guaranteed access to our family fleet and to leading operators, with the ability to switch seamlessly between aircraft categories and to US flights, via a partnership with Sentient Jet - without paying a surcharge. The card can also be shared by a group of users, making it attractive to corporates.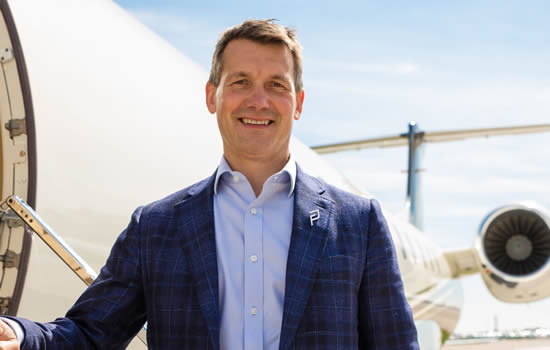 You have been a regular on news channels talking about a new generation of flyers coming through.
This new generation is not so much about age, but about 'first time' business aviation users. Some are in their 30s and 40s of course, but others are actually older, who may have health concerns prompting them to re-assess how they fly while Covid still presents a risk.
We don't position ourselves specifically as a service for the younger end of the market but, being a business built around a tech platform, PrivateFly has always appealed to younger business aviation users who want more control of the process and whose high expectations of speed, communication and responsiveness we can meet. We're continuing to work with our operator partners to enhance this user experience yet further.
The bizav community has been bullish about surges in enquiries/ increased bookings. Is this sustainable?
True, this summer has been very busy and as we stand at the end of August, our booking levels are ahead of last summer - with enquiries at double last year's levels. But, this is over 90% leisure flying and comes after a period of low demand in April and May, so we are not complacent in any way about the challenges ahead.
Business travel will return to some extent, but we will see much more last-minute bookings, throwing up a lot of uncertainty. With quarantines and other border controls still likely to change, and airline schedules still unconfirmed, clients don't want to make plans too far ahead.
From conversations we are having, we know that business travellers and corporates are looking at business aviation very closely and planning budgets accordingly. Optimistically speaking I can see a scenario where there's less travel overall - such as sending staff to conferences and events - but also, where senior executives and key people use business aviation more.
The quarantine measures have hindered business aviation as much as the commercial airlines and job losses are affecting our sector too. What would you like to see our Government do as a priority?
The UK's 14-day quarantine measures have certainly created more uncertainty during what was already a challenging time for the aviation and travel industries. I hope there can be a more refined approach introduced as soon as possible, such as increased testing on arrival, in line with other nations. EBAA and others are doing a great job highlighting some of the specific challenges for business aviation. We are a resilient industry and I don't doubt we'll continue to find ways to get together, and to look ahead to a better year in 2021.
Is the proposed new air bridge between London and New York a significant development?
An air bridge between London to New York would be very welcome commercially, connecting two of the world's top business hubs. It's the most important transcontinental route for business aviation and would be a welcome boost to long range operators and service providers in our industry.
Yet discussions still appear to be at an early stage and there is a lot to be worked through - both politically and practically - so I can't see this happening quickly.
The year 2020 will go down in history as the worse year ever for aviation - are there any green shoots?
There are always green shoots! I think you have to look for the positives. When I founded PrivateFly it was at the start of the economic downturn in 2008, and I saw first hand how tough times generate a change in consumer behaviour, and act as a catalyst for innovation. This year has obviously seen another level of challenge, but for companies prepared to embrace the need for change, there will be opportunities.
Unfortunately some businesses will not survive, and others will take advantage of opportunities to secure their long-term futures. Kenn Ricci has been open about the current M&A opportunities for Directional Aviation, so I am hopeful that as a group we can play a part in that.
When do you think the industry will see each other again?
It's so hard to say at the moment, with Covid case numbers rising again in many countries. I really do hope MEBA can go ahead in Dubai, as the big industry events are such an important way to showcase what we do best.