United Kingdom:

UK regional airport services start taking off

By Keith Mwanalushi.
Airports across the UK regions are gradually opening to domestic and international traffic following the resumption of airline operations and the easing of travel restrictions across Europe, writes Keith Mwanalushi.
Newcastle International Airport saw the return of scheduled passenger flights from June 1st. "We had two flights per day throughout the first half of June - one flight per day to Aberdeen with Loganair and one to Amsterdam with KLM. This will increase to six flights per day with six airlines by the end of June," Graeme Mason, the airport's Planning and Corporate Affairs Director tells Resilient Aviation.
In readiness for passengers returning, the airport announced a Ten Point Plan at the end of May, put in place to ensure the terminal is a safe environment for passengers and staff. The plan includes mandatory face-mask wearing, social distancing measures and enhanced cleaning regimes.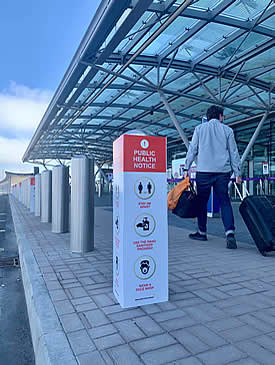 "At Newcastle we have invested significantly to ensure the terminal is a safe environment for all. This has included additional signage and hand sanitiser stations throughout the passenger journey. We have put in place additional PPE and plexiglass screens to protect passengers and staff and an enhanced cleaning regime using new equipment to stop the spread of COVID-19," Graeme Mason states.
Air France announced the resumption of flights to Newcastle from Paris effective June 16th. The route will initially be operated twice a week using an E190 aircraft, with the daily Air France service resuming on July 6.
Teesside International Airport connects the North East of England with a handful of domestic and European destinations. During the first phase of the airport's reopening, from June 22nd, the terminal will only be open to passengers and airport staff. New health and safety measures, which will be constantly monitored, have been put in place to comply with government guidelines. These include regular deep cleaning of the airport and increased sanitation of key touch points, along with the erection of plastic screens where necessary. The airport says a six-step safety scheme has been put in place and it has been communicated to all staff and passengers.
From June 22nd, daily weekday services between Teesside and Aberdeen and Teesside and Belfast will resume.
Effective July 6th, flights to London City Airport (due to open this month) and Newquay are scheduled to return. Teesside is working with its airline partners to cover the resumption of other daily routes, including to Southampton, Dublin, Cardiff and Amsterdam Schiphol.
The Scottish airports operated by the Highlands and Islands Airports Limited (HIAL) have also introduced new measures to help ensure the safety of passengers and staff. HIAL say wearing face coverings, hand sanitiser and strict adherence to social distancing are some of the requirements for all airport users as airlines begin a measured reintroduction of scheduled flights.
EasyJet announced the restart of its Inverness to Gatwick service which took off on June 15th. According to HIAL, other airlines have indicated they will also look to begin a carefully planned introduction of non-international services to HIAL airports soon.
The various airports have all published the extensive list of COVID-19 related measures on their official channels.

---
| | |
| --- | --- |
| Twitter: @KeithMwanalushi | An aviation enthusiast since childhood, Keith Mwanalushi started his aviation career as an account executive at a public relations firm. He was responsible for coordinating PR campaigns on behalf of British Airways in Zambia. Upon moving to the UK in 2004, Keith has fulfilled several roles as an aviation journalist and editor for several industry leading publications including African Aerospace, Arabian Aerospace, Low cost & Regional Airline Business and Airline Cargo Management. He is currently editor-in-chief at AviTrader MRO. Keith has accrued 20 years' experience in airline PR, as a qualified practitoner and aviation journalism collectively. He lives in London and his closest 'regional' airport is London Heathrow. Keith enjoys travelling for business and leisure and can't wait to get airborne again. |
---