International Aviation Womens Association
Top British female talent to zoom in for IAWA's GA Leadership Forum
Leading a multinational company through the pandemic, Black Lives Matter and creating a Charter for gender equality are all topics on the table from three of the founding members of the Women in Aviation and Aerospace Charter (WIAAC), who will lead a panel at the General Aviation Leadership Forum from the International Aviation Women's Association (IAWA) being held on 25th June 2020.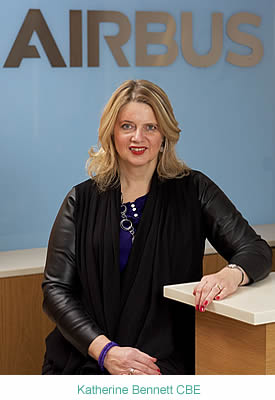 All three are senior leaders from three of the WIAAC founding companies: Airbus, Rolls-Royce and Virgin Atlantic. The Steering Board is co-chaired by Katherine Bennett CBE, Senior Vice President at Airbus and the President Elect of IAWA, and Sumati Sharma CA, Vice President Special Projects at Virgin Atlantic. They will be joined on the panel by Jacqui Sutton, Chief Customer Officer – Civil Aerospace at Rolls-Royce.
The moderator of the panel will be journalist Liz Moscrop, who has reported for the BBC and Channel 4, as well as The Times, The Telegraph, FlightGlobal, Arabian Aerospace and Inflight. She now owns and runs GearUp.TV, a video company dedicated to the aviation sector.
Sumati Sharma, Co-Chair of the WIAAC Steering Board, said: "The Women in Aviation and Aerospace Charter is thrilled to be participating in the IAWA Forum and contributing to the vitally important issue of gender diversity in our sectors. It is crucial that we retain a strong focus on this as we address the challenges of the Covid-19 pandemic as diverse, forward-looking and collaborative workforces will be a critical element in helping organisations to recover and face the future with confidence."
René Banglesdorf, IAWA GA Committee Chair, added: "When women come together, something powerful happens. When we first conceived the idea of a virtual conference, we had no idea we would be able to assemble more than 100 female presenters and special guests. We are all inspired by the Charter and hope to carry forth that momentum with this event."
The Women in Aviation and Aerospace Charter aims to support the overall diversity of the sector and build a more balanced and fair industry. It looks to support the progression of women into senior roles in the aviation and aerospace sectors, and aspires to see gender balance at all levels across aviation and aerospace. It recognises that a balanced workforce is good for business – for customers and consumers, for profitability and workplace culture, and is increasingly attractive for investors. It now has more than 200 signatory organisations all of which have pledged their commitment to help make these aims a reality.
It is free to register for the General Aviation Leadership Forum, which offers an entire day of thought provoking panels from senior players throughout the aviation sector.
Go to: www.iawagaforum.com for more information.