Taking data to a new level - Richard Koe

We speak to Richard Koe, Managing Director of leading business aviation data research and consulting company, WINGX.
How have you been managing during the lockdown? Personally and professionally?
I can't pretend it hasn't been challenging! I run a small, demanding business. My wife works too and we have three small children in a little flat downtown - thank goodness schools are back in Switzerland !
I've missed all the positives from being able to brainstorm with my team in the same office, and at the same time we've had to adjust to staying home when so much of our business at WINGX has been built around getting out and about, seeing customers, networking at conferences around the world. We greatly miss that. However, we are a digital business too - which does make working remotely easier. Data has become so important for the industry as companies prepare for the rebound. This is good for us and we find our services front and centre in demand.
What enhancements has WINGX been evolving for clients during this time?
When a big shock like this comes along, everyone wants to know how big the impact has been on the industry, and the quickest way to see that is in aircraft utilisation (far more so than with aircraft deliveries or after-market services, which take longer to materialise). This necessity really plays to WINGX's strength. We have taken the opportunity to invest in more data feeds, so that we can track daily movements in all types of aviation – which provides a fascinating context for evaluating the relative resilience of business aviation demand.
We also want to take this opportunity to show that we go well beyond market data in terms of providing business intelligence. For example, you can collect a mountain of data on flight arrivals. But it takes a lot more thinking, as well as integration with many other data sources, to generate insights to show what this means for an airport, for a maintenance company, or an aircraft owner, or an investor. During the lockdown we established new collaborations with Osprey Flight Solutions, the Air Charter Association, complementing the data we already provide for EBAA and BBGA members.
Industry webinars and Town Halls have become part of the new normal. What have you learned from your peers and what has impressed you about the industry's resilience?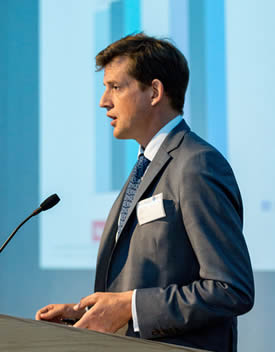 In my view the pandemic has so far underlined the tendency towards fearfulness rather than resilience, and sadly, as fear tends to sell better than hope, the mainstream media has consciously stoked these concerns. Lockdown was also clearly a ´better safe than sorry´ policy, and together with ongoing interventions like mask-wearing and social distancing, the overall ambience of the last three months has been very negative. I say all that only to emphasise what a relief it has been to see almost universal optimism (albeit, mitigated by reality) in our industry, clearly on display if you've attended Corporate Jet Investor's globally popular town halls.
Aircraft activity, in the business aviation sector, has largely reflected that resilience, with recovery to half-normal levels, way ahead of the 80% crash in commercial airline demand. I do believe business aviation can lead the recovery and win over a much bigger market.
In your view, when will business aviation fully recover and how different might it look?
We think there are potentially three phases in the recovery. The First phase is pent-up demand as business aviation responds first to travellers wanting to move post-lockdown. This will mainly be driven by the leisure market.
The Second phase is post-October 2020, and it will be very difficult to call the outcome of two competing forces. I'm pretty certain the economy will hit a wall as furlough schemes run dry and unemployment soars. Markets will slump and economic activity will suffer, so that´s bound to undercut all executive travel, including bizav. But, then, positively, senior business executives and entrepreneurs will still have a need to travel, and many will be focused on securing important deals whilst there is a window on distressed asset prices. These people will quickly discover that travelling privately offers relatively more convenience and flexibility than ever.
The third phase is probably Q2 2021, when the economy starts to regain some traction. Commercial airlines will still be far from recovery, and business aviation will have an opportunity to diversify its range of services and market coverage. In many cases it will become the only option for a deserted route and slots will be plentiful at the popular, hub airports.
What are you most looking forward to post Covid-19?
Getting back to a semblance of the old normal, and moving beyond the endless discussion of (mostly-dystopian) visions of 'new normal'.
I hope never to hear the term social-distancing again!
This week's WINGX Global Market Tracker can be found here