Preparedness delivers for Air Charter Service

By Alison Chambers
Air Charter Service is one of the world's top charter brokers with offices all around the world and representation in six continents. Just before the lockdown, the business had opened two new bases - in Chicago and Singapore. There hasn't been a formal welcome to the worldwide team, it's been straight into work - from home, highlighted James Leach, Group Marketing Director.
When Resilient Aviation called him, during the past hour his team had confirmed an oil and gas flight to West Africa; a Middle East to India private jet charter; dedicated PPE flights to Spain and the UK; an intra-India flight between two remote destinations, and a repatriation flight from Norway.
"It really has been the most unusual time which has seen us arranging all manner of charters," he said. ACS did its first ever cargo flight into Heathrow, with inbound arrivals from Africa and Kazakhstan. It is also rare to be able to use big hub airports as fuel stops.
ACS' Covid-19 response started in January, handling urgent charter requests from its Shanghai, Beijing, Hong Kong offices. "Our first priority was getting our 550-strong people business set up to work from home," says James. "The work we handled in China gave us a head-start on the sort of flights we needed to plan for."
James explains, "First, we were doing evacuation flights for European citizens out of Wuhan using up to Airbus A380 size aircraft. As scheduled services stopped, we got even busier. Urgent cargo had to be flown out ahead of factories closing. As the virus started spreading, we saw a big spike in repatriation flights. Private jet charters started to get very busy by early April (from this week the quarantine restrictions imposed by the UK Government have dented demand.) Throughout, we have had a tidal wave of PPE demands requiring airliners to carry cargo strapped in to seats - a direct consequence of scheduled service flights stopping and stripping out 70% of belly hold air freight capability."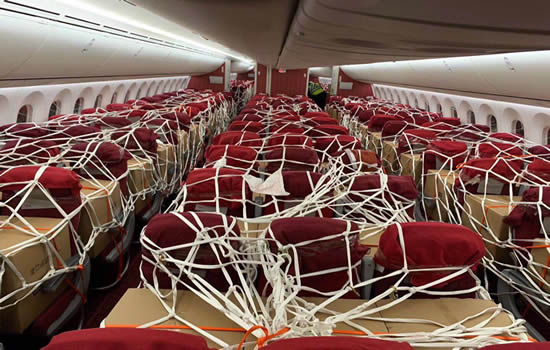 PPE takes over a passenger aircraft.
He notes: "Throughout, we have able to field local staff (multi linguistic)] and work with local bank accounts, which all helps getting things done and doesn't slow things down. These past few weeks, the PPE work has begun to diminish. We have been arranging charters; liaising with farm owners, for agricultural workers to come to the UK to work. They are coming in from countries with very low rates of infection so it makes sense as they go into temporary accommodation and stay there, (versus British workers who would go home on a weekend.)
James notes his teams have "scoured the world for available capacity. We hold three planning meetings a week to address opportunities, analyse where the demand will come next, and where we see the next concern."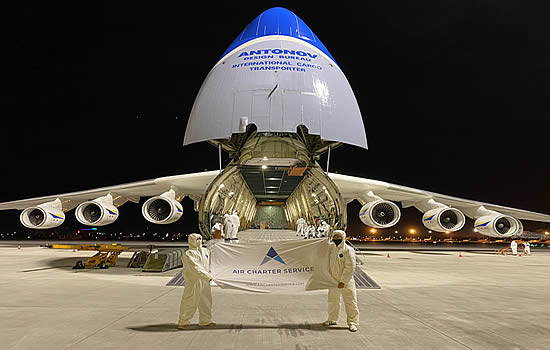 AN225
What about business aviation specifically. Will there be more in demand than before?
There are so many theories about how the private jet industry will fare and you can end up in a loop thinking about it. A lot of the flights we are still doing are repatriation flights, people getting home from their second/overseas homes. Certainly, we have seen new clients turning to charter. The key question is whether this new generation of customers coming into our industry will be a constant – and will they (collectively) generate enough extra flights to compensate for the amount of flights lost by the people who won't be travelling so much. How many businesses which regularly use private charter will go bust? As to where they are flying, Portugal is top of the leader board, followed by Greece, but other countries are swiftly opening up. Long haul business aircraft were trending in the earlier days, but now it is more light jets, Mustangs, and even piston aircraft.
The charter market is very fragmented and before Covid-19 it was worryingly becoming a race to the bottom. Will business aviation emerge from this able to charge its true value?
This so called race is driven by loss leading business models focused on gaining market share, versus making profit. Companies are giving customer discounts, for example and writing them off as 'marketing costs,' Arranging flights that are lower than net pricing isn't good practice. Owners and charter operators need their aircraft to fly, but we must not forget this is a speculative industry, nor is loyalty a given.
Will Uber private jets ever work?
This is why the Uber for private jets model will never produce the best prices, James adds. The speculative margin becomes more important than the fuel cost, so operators will take a punt at a price to win the outbound flight in the hope they will make their money on the next inbound. It isn't the brokers driving this race. Even if there was a system that gives an instant price, the operator would probably still speculate, up to the point where it can't go any lower, because people have to make money.
James also notes post Covid-19 will bring the set up of more one-man band brokers and illegal charters too could increase. "They exist, sadly, because aircraft owners want to make cash on the side to subsidise their aircraft costs (without following proper, expensive safety procedures), James points out. "It costs money to run an aircraft, and there will be some wealthy people who are going to be a lot less wealthy. It is a real danger to the public and for our reputation as an industry, citing the tragic Sala accident. ACS is firmly behind the work that ACA, BBGA and EBAA are doing in exposing bad practices. The company is proud of its ethics and its investment in its people. New brokers joining ACS are immediately signed up to a full year's training."