New Scottish HEMS role for Gama Aviation as it weathers the COVID crisis and prepares for the future

By Paul Eden.
On June 1st, Gama Aviation took full control of helicopter emergency medical service (HEMS) provision for the Scottish Ambulance Service (SAS). "We went live at 0700hrs this morning as prime contractor," Mark Gascoigne, MD, Gama Aviation, Europe Air, told Resilient Aviation later that day. "It's a big day in Gama Aviation's history."
In fact, the company's involvement in Scotland's air ambulance provision reaches back around two decades, both as subcontractor and primary, latterly with the helicopter operation itself subcontracted, but now the service is entirely in-house. With a new base at Inverness supplementing existing facilities at Aberdeen and Glasgow, the contract employs in excess of 90 staff, around 20 of them added over the previous 18 months to engineer and fly the aircraft.
Employing three new H145 helicopters, the contract is an obvious expression of Gama Aviation's activity in the rotary-wing special missions market, although it is better known for its fixed-wing operations. "Gama Aviation has actually worked with helicopters, especially on design and engineering, for many years," Gascoigne explained. "As well as the SAS contract, over the past few years we've had lengthy discussions around expanding our rotary interests and we're looking carefully at opportunities beyond HEMS provision as a strategic aim rather than a tactical play."
Meanwhile, in common with its industry peers, Gama Aviation has been carefully navigating its way through the COVID-19 pandemic, but has perhaps fared better than some thanks to the nature and diversity of its operation.
Gama Aviation's continuing success is founded on business aviation services.
The 23rd May announcement that Gama Aviation, along with Atkins, had been reappointed to continue delivering Military Airworthiness Reviews (MARs) to the Royal Air Force's HQ Air Command and Joint Helicopter Command (JHC), reflects that diversity. As well as entrusting MARs on RAF fixed- and rotary-wing aircraft to the companies, the contract also includes similar coverage for the RAF Chinook and Puma; Royal Navy Commando Helicopter Force Merlin Mk 3 and Wildcat; and British Army Apache, Bell 212, Gazelle and Wildcat helicopters operated under JHC.
This military contract demonstrates the considerable confidence of the UK Ministry of Defence in the Atkins and Gama Aviation partnership. It's a fact not lost on Chief Marketing Officer Duncan Daines, who told Resilient Aviation: "Having a level of sign-off on an F-35 Lightning or Typhoon, right up to the Voyager tanker, displays us at our best. Simplifying complex tasks, delivering diligently and creating strong platforms that perform are core to our business. I believe this re-award, in the face of strong competition, is testament to the value that Gama Aviation and Atkins deliver to our clients."
Aviation Services at its heart
At its heart though, Gama Aviation remains a business aviation services provider. And, since its inception in 1983, the company has weathered its fair share of global economic crises, leading to a diversity of capability within the wider market - including military contracts - and business aviation itself. "It's a strategy that helps during turbulent times and offers a wider playing field during recovery and growth," Daines said.
"Of course, this particular crisis is unique and it would be naïve to suggest it isn't affecting us, but we're looking after our people and managing our liquidity to ride out the worst of it. As we last disclosed to the City in April, the Group retains a US$50 million credit facility with HSBC, of which US$30 million remains undrawn and we currently have US$17 million of cash following the receipt, in March, of a substantial annual advance payment in respect of a long-term contract.
"But we remain focused on improving the collection of receivables, eliminating non-essential spend, mitigating costs and making use of all available financial support to ensure we preserve the Group's healthy liquidity position. Compared to the 2007/08 economic crisis, our business mix has changed by design, so we aren't exposed in the same way others might be."
Considering the business as a whole, it seems much of Gama Aviation's offering relies on providing platforms enabling a variety of missions. On the one hand, for example, it supports the Royal Air Force Shadow fleet, operating a King Air-based intelligence gathering platform, while on the other it provides a complete support and management package for an HNWI flying from Hong Kong to Las Vegas. Or it could be providing an H145 capable of delivering an injured horse rider to hospital quickly and efficiently; simply saving lives, in fact.
Launched in summer 2018, Gama Aviation's Bournemouth facility is another aspect of its diverse portfolio, offering 100,000ft2 of hangar space on an ad hoc basis to British Airways, among others, as required (during the pandemic.) "There aren't that many hangars that'll take a 747 and still leave space," Daines noted.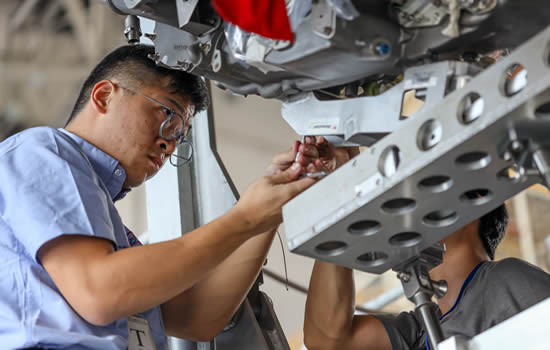 But that's far from the complete Bournemouth story. "When we came to Bournemouth we consolidated activity from other sites and we expect to stay there for a long time. Right now, we have Challengers on 96-month checks and we've just extended into Global maintenance, up to 240-month checks, so really deep maintenance, alongside our traditional King Air work that runs from within the hangar.
"We're taking aircraft from the Middle East, Europe and the UK, and we still have lots of space for the business to expand into. We even had Martin-Baker's ejection seat testbed Meteor in the hangar recently. It came in for avionics work and looked fabulous, parked among the Globals and Challengers."
Mark Gascoigne says it's pleasing to see that several owners of aircraft that Gama Aviation manages also opt to trust the company with their maintenance. "They come to us because they can see the whole operation under one roof, they can see the engineering team invested in their aircraft; one of the recent Challenger 96-month checks was on a managed aircraft. That extra level of in-house support is exactly what some clients are looking for."
Gama Aviation is successfully navigating the changing aviation landscape, thanks to its deliberate diversity into special missions, and its depth and geographic breadth of capability in traditional business aviation services. The company has space to evolve as new opportunities arise, opportunities that will be assessed with the characteristic blend of thoroughness and prudence that have seen Gama Aviation become a critical service provider to the global business aviation market, special missions operations and the UK military.

---
| | |
| --- | --- |
| | A life-long, profoundly passionate aviation enthusiast, Paul E. Eden began writing about aircraft in 1996 and became a freelance aerospace writer and editor in 2003. He says his addiction began with a Matchbox Spitfire model kit and the Ladybird Book of Aircraft, around 1975. Since then, he has written for the Official RAF Annual Review and Salute publications, and currently edits and writes Executive and VIP Aviation International magazine. A regular contributor to a number of specialist publications, including Aerospace, the journal of the Royal Aeronautical Society, and airline, cargo and flight test magazines, he also blogs for Runway Girl Network. |
His first book for Bloomsbury, The Official Illustrated History of RAF Search and Rescue, is scheduled for publication in June 2020.
Blog: https://pauleeden.wordpress.com
http://uk.linkedin.com/pub/paul-e-eden/15/9a5/671
Twitter: @TwoDrones
---