Heralding innovation - through the crisis

Resilient Aviation speaks with Kate Sarsfield.
Kate Sarsfield is the Business and General Aviation Editor for the world's oldest weekly aviation magazine Flight International - which marked its 110th anniversary in 2019 - and leading aviation news and analytics website Flightglobal. Based near London, she reports on aircraft manufactures, suppliers and operations within this large and diverse sector.
This has been the most unprecedented time for aviation and business aviation too. What sort of stories have you been covering, and how is the sector showing resilience?
I've been covering a range of stories; of course COVID-19 related issues dominated the news agenda early on as aircraft orders, deliveries, production and movements slowed, and the industry started to adjust to what you rightly describe as "the most unprecedented time" for business aviation. It's been very tough, but the industry has shown tremendous resilience. Operators for example have adapted to changing environment by taking on invaluable repatriation and humanitarian work and flying cargo in the place of passengers. Many of our readers are now experiencing COVID story-fatigue, which I can appreciate, so thankfully, there is plenty of other news to report on. Innovation don't stop during a crisis, and this industry is testament to that with a host of new designs in the works from small electric aircraft and urban air mobility vehicles to turboprops and large-cabin, long-range business jets. Watch this space!
How have you been managing during the time - with work and home life? Describe a typical week.
I have been a part-time home-worker (two-days a week) for many years now, so adjusting to this routine full-time during lockdown has been pretty easy, and really enjoyable. I have been working each day alongside my 14-year-old daughter who gets on with her assigned school work. We try to stick to a routine, where possible, taking a short break in the morning and afternoon, and a brief lunch in-between. It has been a pretty successful and fruitful working arrangement - thanks largely to my decision early on to adopt a "no mobile phones" policy - a necessary measure for a garrulous teenage girl! While her working day ends at around 3.30pm, I carry on until everything is cleared - this can mean filing a breaking news story and answering essential emails late into the evening.
I am in regular contact with my FlightGlobal colleagues via Teams and have conducted a few webinars and interviews via Zoom. I often wonder how businesses would have coped if this dreadful pandemic had struck a few years earlier, before this fantastic technology had been created.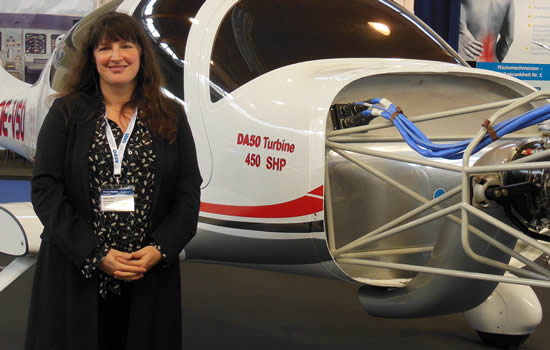 Kate at Aero Friedrichshafen.
Can you name some stand out online interviews and who especially has impressed you?
Everyone I have interviewed has impressed me, from George Bye, developer of the eFlyer family of all-electric aircraft, to James Moon creator of the TailHail, a new innovative online charter marketplace. These gentlemen are a perfect example of the boundless innovation and creativity in the business and general aviation industry. These innovators will help drive its recovery.
What shape do you think the business aviation sector will look like when we are out of this?
It's too early to tell what the "new normal" will look like for the industry when it eventually emerges from the crisis, but one thing is for sure, it is taking a nasty bruising from COVID-19 and nobody really knows when the pandemic will be brought under control.
What have you missed during the lockdown and what have you not missed - enjoyed even!?
I have missed my friends and family. We are a very close unit and before lockdown would meet up regularly. Zoom has come into its own, however. A highlight of the week is a big (and very entertaining) quiz which we each take in turns to host. I have also enjoyed taking lovely walks, and exploring the countryside around our home - something we didn't do enough of before lockdown.
I haven't missed the commute to my office in Sutton - a two-minute journey to the home office is a lot easier and far less stressful.
When you can, where will you travel to?
I'm in no rush to travel abroad either for work or on holiday. My next work trip is to Orlando in October for NBAA, if it still goes ahead, of course. I hope it does, as I love working with the great Flight Evening News team and it will be wonderful to catch-up with my friends and colleagues in the industry. For those of us based in the London area – maybe a few non-socially distant celebratory drinks when all this is over?!