United Kingdom
BBGA vows to fight back as UK Home Office dismisses its Recovery Group's innovative AMC solution
By Alison Chambers
For the past six weeks the British Business General Aviation's (BBGA) newly established Business Aviation Recovery Group has been working on an Alternate Means of Compliance (AMC) designed to help its sector successfully work within the 14-day quarantine restrictions.

The Association outlined its solution, endorsed by medical collaborators MedAire and International SOS, and recommended its introduction as a test model for the airlines.
The experience that characterises business aviation is through quiet passenger terminals (FBOs) away from the main terminals. It can far more easily adopt the Government's two metre social distancing requirements - and its beta test model can be carried through onboard its executive aircraft too. BBGA advised its suitability and provided detail or how it would facilitate a Public Health England-approved testing regime for crew and passengers - before embarkation and on arrival.
A letter detailing all this work was sent to Home Secretary Priti Patel on 4th June.
'We wrote to her with some confidence - following what we believed to have been good progress in moving our proposals forward to a trial - especially as much more affordable, on site rapid testing machines are now becoming available. Encouraging feedback from the DfT stretched right up to the Aviation Minister. The controversial 14-day Quarantine restrictions went ahead on June 8th.'
"Business aviation is carrying 130 passengers a day into a network of UK airfields," CEO Marc Bailey stated in the letter. "Our sector passengers are coming here for business reasons. They are existing or potential investors that will bolster our GDP and help prevent job losses. They will not come to Britain for their business if they automatically have to go into a two-week quarantine on arrival."
BBGA received a reply on 16th June, from a clerk in the complaints department of the Home Office and far from acknowledging BBGA's measured solution offering help - it merely directs the Association to government policy - that, of course BBGA knows well.
"This is an extremely disappointing outcome," said Marc Bailey. "It is, once again, a systematic neglect to listen to the private sector when it offers innovative solutions during the national crisis that will help save lives, retain jobs and benefit the economy.
"The Government's failure to engage with our progressive plan takes us to a dangerous cliff edge, especially with MPs still arguing about the need to see the next review at the end of June.
"We will be vehemently be challenging this response," he said, urging BBGA's 180-strong members to write to their local MPs too."
BBGA's data intelligence and analysis partner WINGX has prepared this chart this week. It reflects a worrying decline in business aviation movements since the quarantine was introduced, compared with the prior steady improvement from the April trough.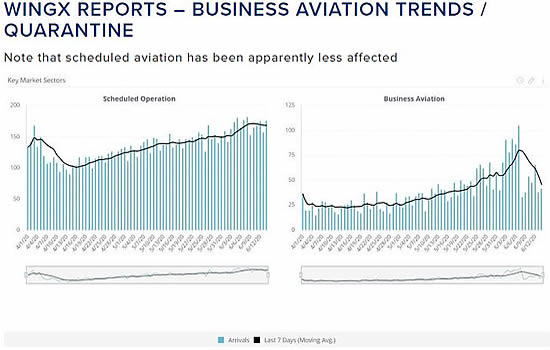 BBGA's Business Aviation Recovery includes BBGA management and director/members Signature Flight Support; Universal Aviation; MedAire; International SOS; SaxonAir and Emerald Media. Signature and Universal represent a total of 24 FBOs.