United KIngdom:

AirTanker completes fastest ever non-stop UK-Falkland Islands flights in COVID-19 capability demonstration

By Paul Eden.
The twice-weekly South Atlantic Airbridge, linking RAF Brize Norton, Oxfordshire with RAF Mount Pleasant on the Falkland Islands, is very much bread-and-butter work for AirTanker, which operates the service using a civilian-crewed and registered Airbus A330.
It's an aircraft from the so-called non-core fleet, available to supplement the UK's frontline Voyager multi-role tanker/transport capability.
Each mission is usually flown as two legs, both in excess of eight hours and traditionally via Ascension Island, but employing an alternative tech stop since 2018. Now, AirTanker has developed a direct routing that ". . . demonstrates the capability to offer a non-stop flight if restrictions owing to COVID-19 require us to do so."
Much of the non-stop operation was business as usual, but the company highlights: "There was lots of preparation and planning, plus the installation of a crew rest facility to ensure the flight could operate legally and safely."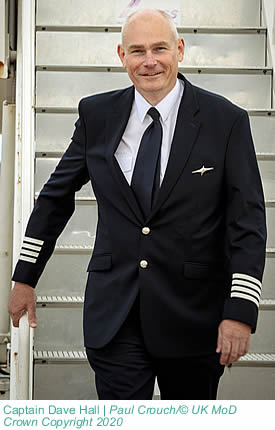 Among the crew involved, Captain Dave Hall previously flew VC10s with the RAF. Now an RAF Reservist flying with AirTanker in a civilian capacity, he recalled that the fastest UK-Falklands time had been recorded by an RAF VC10 in 1987, and realised the opportunity for a record attempt.
Cooperation was the key to success, with AirTanker noting: "The ground operations team put in considerable effort to optimise the routing and the air traffic control teams at Brize Norton, Swanwick Military, London ATCC and Mount Pleasant made a significant contribution in ensuring that no delays were experienced at the beginning and end of the flights."
Although its fuel tanks were not completely full, the aircraft departed Brize Norton on 2 June at maximum weight. "This meant the passenger/freight load was reduced somewhat from that normally available, although the northbound payload was greater owing to the less restrictive requirements for carriage of diversion fuel."
The A330 touched down at Mount Pleasant 6,946nm and 15 hours 9 minutes later, beating the VC10 by 36 minutes and decisively proving the non-stop capability.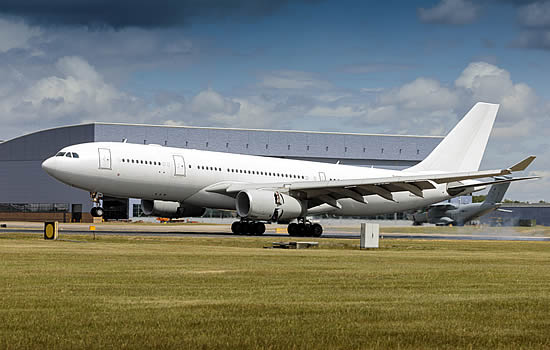 The A330 lands back at RAF Brize Norton on 5 June | Paul Crouch/© UK MoD Crown Copyright 2020
Returning to Brize Norton on 5 June, it achieved an impressive flying time of 13 hours 22 minutes, breaking the existing best time by 1 hour 36 minutes. The Royal Aero Club had pre-authorised the flights as record attempts and the documentation for record claims has been submitted to the Fédération Aéronautique Internationale (FAI).
Both sorties were performed as part of the regular airbridge effort, satisfying normal passenger and freight movement requirements, and to exactly the same operational and safety standards.
Explaining that AirTanker expected ratification for the flights as official FAI records in about three months, Sara Chubb, AirTanker Head of Communications & Engagement also revealed: "Airbus recently confirmed that we also hold a third record, for the longest A330 commercial flight. It was previously held by an A330-200 that flew from Rome to Buenos Aires, in 14 hours 25 minutes."
---
| | |
| --- | --- |
| | A life-long, profoundly passionate aviation enthusiast, Paul E. Eden began writing about aircraft in 1996 and became a freelance aerospace writer and editor in 2003. He says his addiction began with a Matchbox Spitfire model kit and the Ladybird Book of Aircraft, around 1975. Since then, he has written for the Official RAF Annual Review and Salute publications, and currently edits and writes Executive and VIP Aviation International magazine. A regular contributor to a number of specialist publications, including Aerospace, the journal of the Royal Aeronautical Society, and airline, cargo and flight test magazines, he also blogs for Runway Girl Network. |
His first book for Bloomsbury, The Official Illustrated History of RAF Search and Rescue, is scheduled for publication in June 2020.
Blog: https://pauleeden.wordpress.com
http://uk.linkedin.com/pub/paul-e-eden/15/9a5/671
Twitter: @TwoDrones
---