Zoom, Co-Vids and admission to Boris Johnson's Covid Ward

GearUp TV CEO, Liz Moscrop speaks with Alison Chambers.
Liz Moscrop is CEO of GearUp.TV, which provides video storytelling to the private aviation industry. She is a regular contributor to BlueSky News. She has a strong working interest in Diversity and Inclusion.
Liz sits on the Communications Committee for the new UK Women in Aviation and Aerospace Charter and was instrumental in establishing the UK Chapter of Women in Aviation International. Since March 2020 she has been providing remote video services, using livestream and pre recorded footage, including a series of Zoom interviews, "CoVideos," which are running on GearUp.TV's YouTube channel, social media platforms, BlueSky News and Resilient Aviation.
You live in London where the pandemic took hold most fiercely. What were your fears?
Ha! None of my fears were as dramatic as what actually happened to me. I ended up in the Covid emergency room in St Thomas' Hospital – where Boris Johnson had been a couple of weeks prior. And no, I didn't actually have Covid-19. I had a fortnight of - fortunately unfounded - fear, because I'd been in searing pain, and seen a GP who whisked me straight to St Thomas' A&E. They asked me whether I had a temperature, I said I didn't know, which landed me in a sealed room in the Co-Vid area.
Luckily I'm absolutely fine now - I ended up having a minor operation two weeks later and can't praise the NHS highly enough. I assure you that my local Tesco's is a far more dangerous environment than the room where I was treated by fabulous staff, wearing PPE. It was all a bit surreal. But, if you are worried about being unwell now, do let your doctor know and let them assess whether they need to see you or not. Don't be afraid of going.
Typically, you would be in Steve Varsano's stylish office at The Jet Business working on GearUp projects. How has life changed for you since the lockdown?
The biggest impact has been not having access to the team of excellent videographers we work with to do the filming. So I've had to dust off my video skills and learn several new practical techniques. Our team has used Zoom for a few years now, so that hasn't been too big a stretch. I have found I get "Zoomed Out" after a few hours non-stop, and quite enjoy a phone conversation with family and friends in the evening.
That said, our team also meets for a couple of hours in the morning on Zoom, checks in with each other then turns off our cameras and sound, and that really helps us feel we are still connected, looking up and seeing each other as we work. In a rare departure from being the "Lady in Red", the team and I all wore green yesterday - in honour of Mental Health Awareness Day (for our team pic for you.)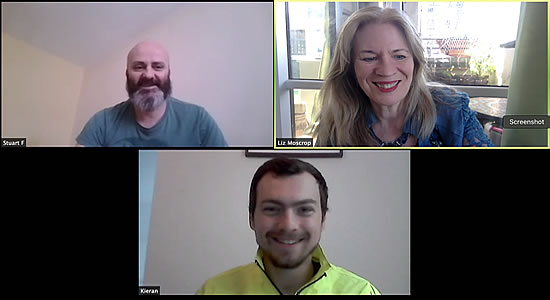 What are you working on now? - (bearing in mind next week would have been EBACE and the busiest time for most of us in the industry.)
We're doing a series of videos for the British Business and General Aviation Association, and I have several unedited CoVideos to complete as I was out of action for a while. I'm also working on a couple of virtual events, including with the Women in Aerospace Charter Communications Committee for an exciting project for the virtual Farnborough Airshow, plus discussing distributing cool new remote filming tech with a US supplier.
What are your goals post COVID?
Firstly, to go and hug the life out of family and friends, second to head to the seaside! I'd like to build on the virtual events and work we are doing and incorporate them into our regular offerings. After the pandemic, I'm also keen to facilitate conversations on how we create a more conscious industry, especially in terms of attracting and retaining a diverse workforce, health and wellness and what we are doing to maintain the lovely cleaner environment we are living in now.
What may you missed / and what have you actually enjoyed - during this 'stay home' time?
I've missed family and friends and connecting with people in person, but I have loved the time to reflect and the huge generosity I've experienced from people while I was unwell. It was really overwhelming. I'm supremely grateful to the team - Stuart Flack and Kieran John in particular for their support over the last couple of weeks. Being nosey, I've also loved seeing inside everyone's houses and particularly enjoyed unscheduled interruptions from kids and pets. The Air Law Firm's Aoife O'Sullivan has the best story ever.
How do you think we will all behave when this is all over? What will you do differently?
I think for a while we'll find it strange being in close proximity to each other, which will affect the way we think about travel for a while. I would like to think that we will truly appreciate seeing each other when we do see each other. Mostly, I will be even more liberal with hugs than I already am.

---
Alison Chambers

, Resilient Aviation Editor.
---