Savannah, Georgia
Resilient Rock Stars in Savannah
By Jane Stanbury
Savannah-based MSB Aerospace LLC manufactures and engineers interior components for business jets. Faced with Georgia-state pandemic guidelines Managing Director Shannon Gill, and her team, took an early decision to continue supporting the MSB customers that were providing essential services for the aviation industry.
Gill managed to achieve the tricky balance between following the COVID-guidelines, protecting her employees and ensuring continuity of production for MSB clients. "We encouraged employees that could work from home to do so, while a reduced onsite team maintained their day to day schedules while adhering to the safety guidelines in terms of social distancing, hand washing and being aware of each other's health," said Gill about what was needed to remain open.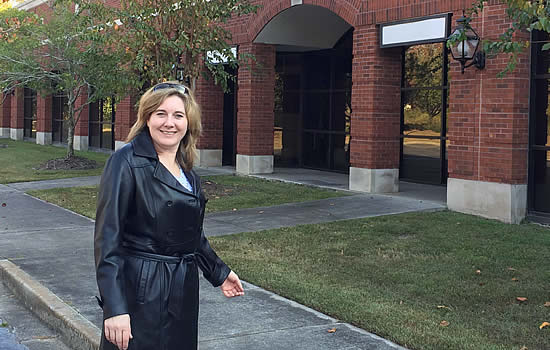 MSB MD Shannon Gill at the company's Sanannah facility.
Maintaining efficiency with a leaner team stimulated a review of processes on the production floor. "We have recently introduced a new enterprise resource planning software. The team discovered new and innovative ways to use the system to streamline processes to gain important ground on subassembly work," says Gill. This meant that MSB could continue to produce throughout the general lockdown. Despite the benefits of the new system, which has also enhanced efficiencies in terms of inventory management, Gill says it is her team that have been the rock stars throughout.
"Even though we've had a reduced staff, we've met and exceeded delivery requirements for our customers and even managed a supply chain that was continually changing due to COVID restrictions. We stayed focused on minimising any schedule impact." Gill says that the lock-down has resulted in revised processes being implemented that will remain in place, even after the immediate pandemic threat has passed.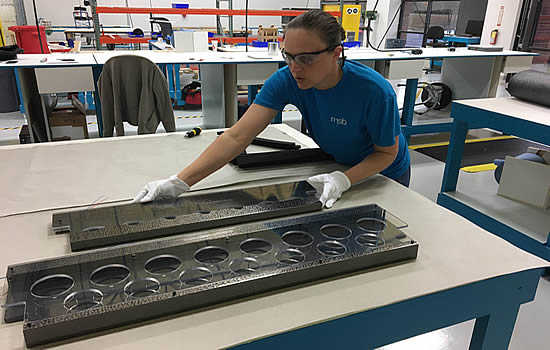 MSB is noting a trend towards a hammered metal look for glass racks.
Keeping teams motivated in challenging times takes skill but when asked how she kept her team focused Gill's response is unexpected. "Honestly I didn't have to do anything, we've recruited an incredible team who are self-motivated and eager to ensure our work commitments are met. They are our biggest asset; they are dedicated and hardworking individuals that I am so proud work with."
Gill is aware that the near future will be uncertain. Even though the industry has recovered from economic downturns in the past, what the new normal will look post a pandemic she says is still unclear. "What I am sure of though is that we've adapted to the current situation and we can adapt in the future. My team of rock stars are ready to face any music," she says smiling.
Like many in the industry Gill is hoping that the planned October NBAA event will still take place. "Business aviation is going to be an important element in global economic recovery so I hope the industry can meet and have the meaningful discussions needed to support recovery." As we go to press MSB employees working from home have now returned to the MSB facility but have been given new onsite locations to minimise co-worker interaction.
---
| | |
| --- | --- |
| | Jane Stanbury |
---