Keeping connected, beachside

Editor-in-Chief of Business & Commercial Aviation, Bill Garvey, speaks to Kelly Murphy.
William Garvey has been Editor-in-Chief of Business & Commercial Aviation since 2000 during which time the esteemed monthly magazine received scores of awards for editorial excellence. Prior to that he was chief editor at Flying and Professional Pilot magazines. Earlier this year he was inducted into the Living Legends of Aviation.
The COVID-19 pandemic has affected all segments of aviation. How do you compare this disruptor with other industry devastations like 9-11, SARS, fuel crisis?
I think the COVID-19 pandemic is unique. I've never seen such startling contraction so rapidly of so many systems, businesses and behaviours we formerly took for granted. The impact on aviation has been almost mind-boggling. The world's airlines went from being hungry buyers of Boeings and Airbuses, to parking them and cancelling scheduled flights by the thousands. Manufacturers ceased manufacturing. Business aircraft operators - corporate, charter and fractionals - were grounded. FBOs were bereft of transients, their fueling trucks parked. All of this seemingly occurred within days. And at the moment, there's no medical solution to the medical crisis. Yes, the economy is in freefall and people are wearying of isolation, but the coronavirus doesn't care. So, as to comparisons with other crises I've seen befall aviation, in my opinion, there are none.
With some states and countries starting to phase out of stay-at-home restrictions, what are your insights as to a "return back to normal" for the aviation industry, and what market segments will rebound first?
As restrictions to travel ease, I think business aviation will be the first beneficiary. Indeed, I think this may be the segment's moment to shine and expand. If you need to travel a distance, go quickly, or both, it provides the best option, by far. It can take you from the airport closest to you, fly to the airport closest to your destination, and most probably do so without an intermediate stop. It avoids the teeming, and health-compromised commercial terminals like DFW, IAD, SFO, etc. Your fellow travellers will be few and all of them known to you. You can discuss sensitive business matters openly in flight. You can use your cellphones and the internet in flight. The aircraft will be disinfected daily. And when the day is done, you'll probably sleep in your own bed. To my view, albeit biased, if you can afford to fly in a business aircraft, why would you choose any other means? The great limiter of access, of course, is money. Travel by private aircraft comes at a premium; it's financial - the counterpoint to low cost carriers. The growing popularity of jet cards, service clubs, fractionals and empty leg options helps bring the cost down and "democratize" such travel. I hope those operators in this for profit do find additional ways to expand that democracy. Doing so would benefit all.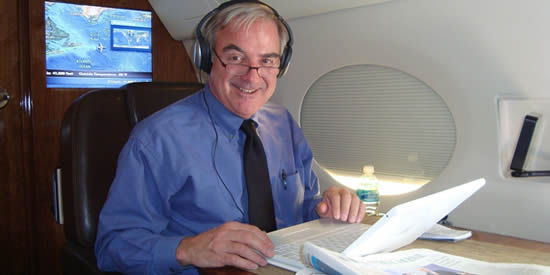 What stories are occupying you today?
Emerging from the lockdown in a sensible, healthy and productive way.
How has your typical work-day been affected for you and your AvWeek team?
Business and Commercial Aviation editors and contributors have been working from their homes for a dozen years or more, so our day-to-day activities are largely unaffected. During the pandemic we haven't travelled, which is different, and makes hands-on assignments like aircraft and equipment evaluations impossible. And no attending aviation events, of course, but most of those have been cancelled anyway. For many of our AvWeek colleagues, home working was completely unfamiliar and has required adjustments. But I think they're handling it extremely well. The group does conduct a goodly number of industry gatherings, some of which are quite large, and many of those have been rescheduled or cancelled, so that's been disruptive. Remarkably, our company has embraced a no-layoff policy, so we keep using the tools available to keep our readers and customers informed and connected.
What do you miss most about this lockdown, and name one positive from it?
Meeting face to face with old friends and family members is what I miss most. Video meetings can be amazing - this past weekend I participated in one with friends, family members and others who joined in stretching from Afghanistan halfway round the globe to Washington State. All of them were inter-acting and in real time. It was quite remarkable. But actual in-person, in the same space contact is special. As for a positive, we're official residents of a beach town and for quite a few weeks, the only people allowed seaside were residents. If you've never had a beach to yourself, I can highly recommend it.
Do you think NBAA-BACE will go on as scheduled or will it be virtual?
That is a multi-million-dollar question only Mr. Bolen can answer. And I suspect he's thinking about the right response every day.
---
Kelly Murphy

, Emerald Media USA.
---