Austria:

Crisis is bringing the industry together - VistaJet

By Angus Batey
Much has been made of how the Covid-19 pandemic has forced us to work together in unprecedented ways. That's even been true in business aviation, despite the industry having a reputation for the bespoke and individualistic mind-sets of both providers and customers.
Ian Moore, chief commercial officer of VistaJet, has seen this first hand - both inside his company and elsewhere.
"We've had a lot of interest in our community support [initiative]," he tells Resilient Aviation. He's referring to the invitation, extended by VistaJet's founder Thomas Flohr, to governments and NGOs, to use empty legs or positioning flights on the company's Bombardier business jet fleet to ferry people and equipment around, during the crisis.
These offers of help have not just involved their company. "We've had conversations with other brands who are doing similar things, who we probably wouldn't have discussed this with before," he says. "There's been a good community element to what we're doing. One thing we've seen is that our people are far more open now to collaborate and to discuss, and to work on understanding what each other needs."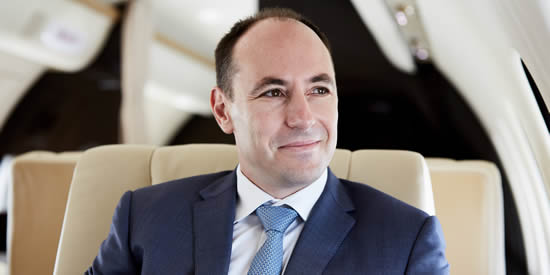 VistaJet COO, Ian Moore.
Internally, too, Moore has been impressed - though not at all surprised - at the way his company's 1,500-strong workforce has responded since the crisis intensified in March. He explains that VistaJet had early sight of the kind of problems that would engulf western nations due to its extensive activities in Asia; and a well-rehearsed business-continuity plan helped ensure disruptions to working practices were kept to a minimum. Nevertheless, the workforce's resilience is clearly a source of great pride.
"Looking at our operations in March, I really don't think we'll ever be able to replicate that again, in seeing just how close-knit and how quickly a global company was able to work, at literally 24/7 pace, to get our customers to safety and to their homes," he says. "The requests were incredible, and from all different parts and locations around the world - and every single flight was a challenge, because the rules were changing around the world so much. It was really humbling to watch.
"As a director or a leader of any company, in these situations you can feel helpless, because you have to rely on so many of your company to work as a co-ordinated unit to deliver on a service," he adds. "And I watched our company knit together, and felt we were a company that was part of an industry that was really trying to do good. And then when you get people home, the thank-you you get - for doing your job; but you know the job isn't normal any more; this is really unique. I'm really happy to see what my company can do."

---
| | |
| --- | --- |
| | Angus Batey is a freelance journalist, based in Cambridgeshire, UK. He has been writing for various titles within the Aviation Week Group for more than a decade, initially covering defence topics. As his contributions to Aviation Week's trade-show daily, ShowNews increased, he has written extensively about business aviation, as well as cyber security, unmanned systems and many other aspects of the aerospace and defence industries. Angus began his career in journalism in the early 1990s. He has frequently written on non-aviation topics including hip-hop music, film, TV, books and cricket for titles including music magazines Mojo, NME and Q, and the majority of the UK's daily newspapers, especially The Guardian and The Times. |
He isn't on social media and doesn't use a smartphone - a consequence of what he's learned from covering IT security, he says - but he does have a website: www.angusbatey.co.uk.
---