Watching business aviation and weasels from home
---
Alasdair Whyte is co-founder of Corporate Jet Investor, the information and events business for the global business jet market he launched with his wife Louisa. Alasdair started writing about aviation in 1998 and edited and published six other magazines, including Airfinance Journal, before launching CJI. More than 50,000 people read Corporate Jet Investor online every month and 10,000 receive the email newsletter.
CJI, recognised with a Queen's Award for Enterprise in 2019, organises conferences, events and training courses in London, Singapore, Dubai, Geneva and Miami. Corporate Jet Investor London is its flagship event, attracting upwards of 600 people from more than 35 countries. He is also responsible for content for Helicopter Investor and Revolution.Aero - which organises aviation technology conferences in San Francisco and London. Since March CJI has been organising free virtual Town Halls every Wednesday at 3pm UK time.
Since the lock down your Town Hall online gatherings have been the 'go to' place to keep the business aviation community connected. What have been the stand-out hopes and fears from your various guests?
The Town Halls have been really motivating. It is amazing having more than 600 people online watching. It is really nice when people log in and say: "Hello from Sydney," "Greetings from Opa-Locka," "Hi from Berlin," and so on. This is a unique period in history and people have always come together during crises. It is how humans evolved.
There is some deserved optimism that business aviation could benefit when lockdowns end. Large companies are not going to let CEOs or CFOs spend hours at airports or in crowded aircraft and these people need to travel. It is the same for high net worth individuals. In the next few months we are going to see a lot of budget shifting from airlines to business aviation.
But business aviation relies on strong economies. We are clearly seeing a global economic downturn. This always hits business aviation hard and it tends to lag any economic recovery.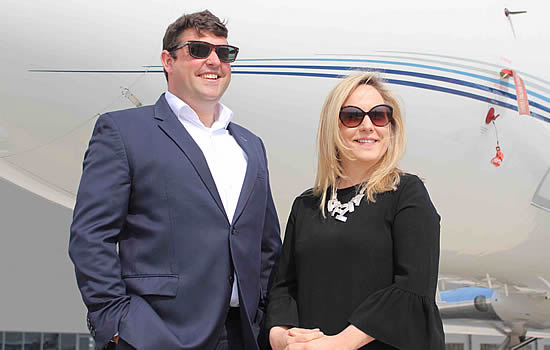 Alasdair and Louisa Whyte
What in your view are the top three priorities that our (inevitably changed) industry will need to follow Post COVID-19?
The first priority will - as always - be the safety of passengers and staff. I know this is obvious, but we will see a lot of focus on health and well-being when flying.
Second, will be managing regulation. It looks clear that different countries are going to introduce different rules and operators, trip planners, airports and charter brokers will have to manage these. The good news is that like safety, managing regulators is a core skill for aviation companies. It is also easier to comply with regulations when you have fewer passengers. This is going to be another headache for airlines.
The third will be making money in the new market. It sounds obvious but companies need to make sure they are getting paid for the service they offer. In many parts of business aviation margins were small before Covid-19. The industry needs to make sure it does not waste this crisis.
How are you managing your business at this time?
Like everyone else. Working from home using WhatsApp, Microsoft Teams and so on. The one difference is once a week we invite more than 600 people into our dining room for the Town Halls every Wednesday afternoon. We already had a pop-up banner in our garage with the CJI logo on it. It is not wallpaper.
What have you most missed and what have you actually enjoyed during this 'stay home' time?
Like everyone, I am missing seeing family, colleagues and friends – including many friends in the industry. We have so many great people in business aviation and I am really missing meeting them for a coffee or drink.
One of the benefits is that this must be the first time in 20 years that Louisa and I have spent the whole of the spring in England. We are normally travelling to at least one of our own events and others like ABACE and NAFA. We live in the country so it has been great watching everything go green. One of the highlights has been watching a weasel – the world's smallest carnivore – hunting for mice in an old tree next to our kitchen. We also found a heronry – a communal heron nest at the top of a tree when we were on a dog walk.
When do you believe we will all see each other again face-to-face?
I wish I could tell you. We are desperate to run live events again. We have postponed CJI Singapore and CJI Dubai but still hope to run them and CJI Miami in 2020. But we are following government guidance and it is changing all the time. The same is true for NBAA-BACE. It is an event we never miss. I really hope NBAA is able to run in this October.
We are also really excited about our new event: CJI Global. It takes place on July 8. It will start at 3pm in Hong Kong/Singapore it will run for 12 hours non-stop until 3pm New York/Miami time. We have already had some amazing keynote speakers and sponsors confirmed and we are trialling some fantastic technology. It won't be the same as a live event but some things will be even better – and it will be truly global. We already have some people saying they are planning to stay up all night and join the different cocktail sessions! It will also be available to watch after the event.