WINGX Global Market Tracker
Slight recovery in North America, mainly in turboprop activity
Global business aviation activity was down by 68% for the period April 1st through May 5th according to WINGX`s weekly Global Market Tracker published today.
The key North American and European markets are respectively declining by 69% and 70% respectively, compared to the same dates in 2019. Asia is doing slightly better at 67% below normal, with flight activity out of South America 64% down. Flights to, from and within the Oceania region have recovered to 48% of normal activity.
click on the images for larger format: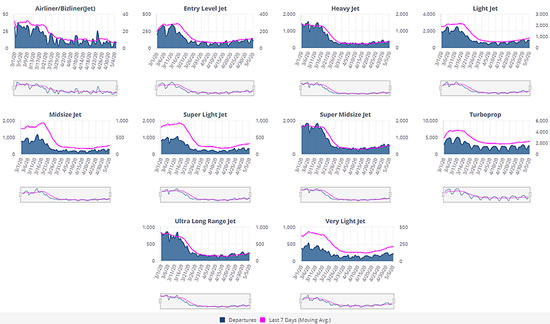 Aircraft Segments Bizav Globally - Jets, Props through May 5th 2020.
The moving 7-day average activity has steadily improved on a global basis since mid-April, from a low point of 3.6K flights per week to 5.2K flights a week in May, more than 40% improvement. This recovery in business aviation activity is far more perceptible than in scheduled airlines. Whereas business aviation activity comprised about 15% of scheduled sectors at the start of March, it now represents around 33%. The North America region is contributing most to the recovery trend in business aviation sectors. Europe is still very flat.

Market Sectors Globally - Jets, Props through May 5th 2020.

After the United States and Canada, the third busiest country is Australia, where flight activity, mainly turboprop, is only 37% below normal. Germany is the busiest European market, flights down by 63%, with both France and UK (where Biggin Hill is the busiest airport in London) much slower, activity down by 75%. Business aviation flight activity in Sweden has declined on 29% during the period. Apart from flights between United States and Canada, almost all business aviation activity is domestic.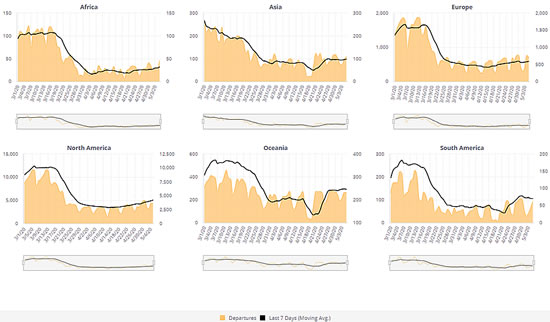 Regional Breakdown BizAv - Jets, Props through May 5th 2020.

By aircraft segment, there is a general distinction between the large cabin long-range jets and the lighter jets and turboprops, with the former category showing no sign of recovery from very low trends, whereas the smaller end of the market is showing some resilience. The Very Light Jet segment has the strongest recovery trend. Within the turboprop segment, the Caravan, PC-12 and King Air 200 are flying most, at around 50% normal levels.

Managing Director Richard Koe comments: "Continued improvement in the 7-day moving average activity since mid-April is encouraging, even if activity trends are still running at least 60% below normal in May so far. It's also clear that the current momentum in traffic is being operated by the turboprop market, with some increment in light jet flying but with most of the large cabin fleet inactive. With Tromsø ranking as the third busiest airport for business aviation in Europe, this is clearly far from being a normal market."

---
WINGX is a data research and consulting company based in Hamburg, Germany. WINGX analysis provides actionable market intelligence for the business aviation industry. Services include: Market Intelligence Briefings, Customised Research, Strategic Consulting, Market Surveys. WINGX customers range from aircraft operators, OEMs, airlines, maintenance providers, airports, fixed base operators, fuel providers, regulators, legal advisors, leasing companies, banks, investors and private jet users.