Regional Airports
UK regional airports get finance boost – from airliner parking charges
By Jeremy Parkin
The airline industry is built on a number of assumptions, including the need for each aircraft to spend the maximum amount of time in the air generating turnover. As a rule of thumb, most long-haul aircraft spend half their life in the air, while the figure for short-haul is around one third due to their increased number of landings. Those figures are lifetime figures and allow for maintenance down-time.
A global shutdown like the current pandemic creates a massive problem for airlines as they suddenly need to find somewhere to park airliners in large numbers. Airline maintenance bases fill up very quickly, and the past has seen similar challenges in the days following the 9/11 attacks in New York in 2001 and the Icelandic volcano cloud in 2010.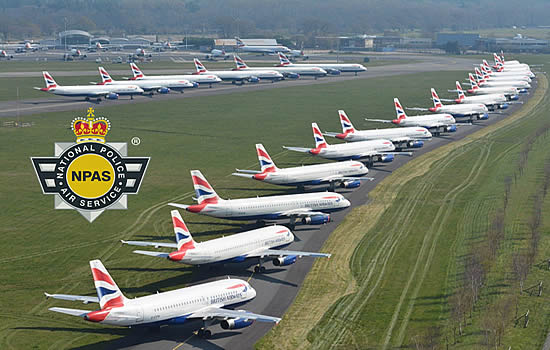 Photo: National Police Air Service
Airports which do have usable parking space are more often regional airports and not the high-use hubs like Heathrow and Gatwick. In some cases, shorter runways at regional airports present a challenge for long-haul aircraft. The challenge of how to park tens of airliners is not a simple one. Airline maintenance crews will need access to keep the systems ticking over on a regular basis, and you can't block up taxiways which are still required for the remaining active flights. Additionally, the parking needs to bear in mind the time when aircraft can start to be used again, and needs to minimise the challenges that time will also bring.
Across the UK, Bournemouth, Cardiff, Bristol, Norwich, Southend, Glasgow and Prestwick airports are all being heavily used as storage centres. British Airways has parked their Cityflyer-operated 24 Embraer E170 and E190 fleet at Norwich and Southend, and are using Cardiff for seven Boeing 777s and six 747s.
Photo: National Police Air Service
Bournemouth Airport hosts 40 aircraft for British Airways, comprising five 747s, six A321s and 29 A320s. The airport also has the three Airbus A340s of Virgin Atlantic parked pending sale, as they will not be rejoining the fleet in line with the carrier's announced capacity reduction plan.
British Airways also has ten A320s and six A321s stored at Glasgow.
The pandemic has also given the airlines an opportunity to redefine their future fleets and bring forward future plans for capacity changes.
Kemble takes B747s
In 2019 British Airways announced that its 32-strong Boeing 747 fleet would be retired by February 2024, but it seems likely these reductions will be brought forward. The airline ferried three B747s to Cotswold (Kemble) Airport in mid April, and while these are officially "parked", the expectation is that they will not fly out. Air Salvage International at Kemble is one of the two largest airliner decommissioning facilities in the UK. A further five BA 747s are parked with Tarmac Aerosave at Teruel in Spain and one recently flown to St Athan, all awaiting the same process. The average age of the fleet is over 100,000 airframe hours.
---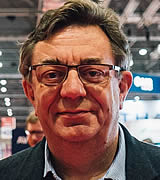 Jeremy Parkin launched the world's first helicopter industry news website in 1999, and has focused his aviation journalism on the rotary-wing world ever since. His website HeliHub.com brings together both news stories, safety data and Jeremy's insight on the industry, which is under-pinned by an extensive network of contacts. HeliHub is run by a globally based team. Jeremy worked for one of the largest IT companies for a number of years, and managed teams spread around the globe from his home office in the UK.
With so many people now working remotely in the current pandemic, Jeremy also brings expertise for those companies and employees suddenly thrust into the realms of working apart instead of face-to-face.
---