Training
SD keeping business aviation educated through the crisis
By Jane Stanbury
Satcom Direct (SD) always emphasizes the importance of educating its customers to ensure onboard connectivity systems and ground operations are optimised.
During global lockdown, its dedicated training team led by Jason Rigby, Director of Training, has recognised the opportunity to extend its educational offerings. New practical training content and materials, including webinars, online training videos and lectures delivered by subject matter experts from SD, as well as leading industry partners, are available for a wider global audience through the enhanced SD Learning Management System.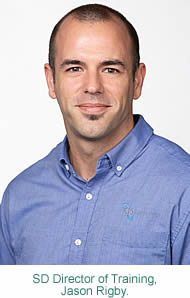 "We know that a significant number of aviation professionals are working from home, with more time on their hands and access to digital devices. This creates a perfect training environment and we want to encourage them to access our latest educational resources," says Rigby. "We are hoping more people in business aviation take this opportunity to advance their business aviation connectivity knowledge. It's a great opportunity to learn new skills and upgrade professional expertise," he adds.
The SD webinar series has been introduced as a direct response to COVID-19. "We had a set of customer events set up in Europe, and these webinars were developed to replace them. The topics reflect the full spectrum of the SD offering with themes including hardware updates, software functionality, flight deck datalink services and details about our expanding range of SD products. It made sense to expand the reach to include customers around the globe. It is going very well, with the first webinar attracting over 100 registrants representing flight departments, crew and corporate IT departments," explains Rigby.
A new SD Lecture Series is also available online. Each presentation delivers absorbing material delivered by leading industry experts and captured on video at this year's SD Connecting with Customers education and customer appreciation event. The presentations incorporate the latest in connectivity innovation, alongside discussions on future technology from SD partners across the satellite and OEM spectrum. The lecture series delivers a fascinating big-picture-view of the increasingly complex nature of aviation connectivity and the future of flight operations. To complement the webinars and lectures, SD's "How to . . ." and "What is . . ." video series introduce business connectivity concepts and cover SD specific services in detail.
For advanced aviation IT professionals holding the SD aeroIT® certificate, the industry's first professional information technology aviation accreditation, SD has made renewal certification available online. With initial courses launched just four years ago, many holders are due for renewal. "We have enhanced the LMS to enable them to keep current so they can return to work with their certification verified," explains Rigby.
Flight attendants and technicians are also benefitting from the online offering as aeroCNCT® workshops are being delivered through webinars. The course is designed to provide flight crew members with the knowledge, ability, and confidence to troubleshoot basic in-flight connectivity issues. Often in the frontline when a problem occurs the certification gives them the know how to fix basic issues or troubleshoot problems in conjunction with the SD Customer Service team. Rigby has delivered three aeroCNCT webinars so far and more are planned.
"We anticipate the information resources we are providing will encourage individuals to stay up to date with their connectivity knowledge, so they are fully ready to return back to the workplace. Keeping people connected is always our mission," concludes Rigby.