Australia
Rex receives lifeline to continue regional services
By Emma Kelly
Australia's largest independent regional airline Regional Express (Rex) has been given a lifeline, with a grant to provide services to regional and remote airports in the country under the Australian Government's COVID-19 Regional Airline Network Support (RANS) programme.
In late March, Rex warned it would have to cease all regular public transport services throughout the country from April unless Federal and State Governments were willing to underwrite the airline's losses.
The regional, which prior to COVID-19 operated a 60-strong fleet of Saab 340 turboprops on 1,500 weekly services to 59 destinations throughout the country, subsequently secured assistance from the state governments of Queensland, South Australia and Western Australia to maintain minimum essential services in these states.
In late April, the airline's immediate future was further secured with the signing of a grant agreement with the Federal Government providing assistance to operate services to most destinations on the airline's network. Rex now has funding to operate two to three return services a week to all destinations on the airline's network - 88 weekly return services in total. The RANS programme provides funding for up to six months.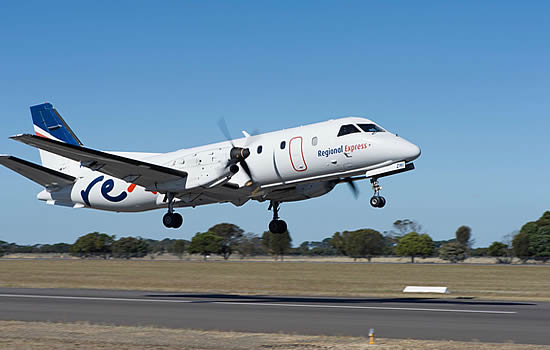 Temperature tests introduced
With the resumption of passenger services, Rex has implemented body temperature testing at check-in or boarding for passengers, as well as checking the temperatures of all staff. In addition, passengers are spaced out onboard to facilitate social distancing, while in-flight catering service has been adapted.
As well as providing passenger service to regional and remote airports, Rex also transports blood, urgent medical supplies, patients and specialist medical consultants between regional centres and major cities.
Without the government funding, Rex says it and all independent regional carriers would have collapsed within days. "By funding a barebones schedule for the next six months, the Federal Government has given all regional airlines a fighting chance to see through this pandemic," says Rex's deputy chairman, John Sharp.
The Federal Government's regional aviation rescue plan allows regional operators to access two funds - a A$198m (US$127m) fund to ensure RPT regional air services are maintained and a second fund of A$100m to assist small regional operators stay in business. The Federal Government has also implemented a A$715m relief package for all Australian airline operators which includes the waiving of fees by Airservices Australia, fuel excise and regional aviation security charges.
Prior to securing the funding, Rex had warned it would be forced to shut down its entire network and stand down 90% of its staff in order to conserve cash, which would otherwise run out in a matter of weeks. "If regional carriers collapse, so will many regional communities for which the air service is their lifeline," Rex had warned.
The COVID-19 outbreak is the latest crisis to hit regional Australian communities, with the devastating bushfires at the start of this year and the worst drought to affect the country in over 100 years. Chief operating officer Neville Howell told the government that Rex is a "strong, nimble and extremely resilient company that has been able to overcome many adversities over the past 18 years", but "the impact of this crisis [COVID-19] will be several orders of magnitude greater than the worst we have experienced in the past."
Prior to the government's funding, the Regional Aviation Association of Australia (RAAA) had warned of the "looming demise of regional aviation in Australia", with airlines' financial survival counted in days rather than weeks. Speaking for the country's smaller regional airlines - Air Link, Aviair, Alliance Airlines, Chartair, Fly Corporate, FlyPelican, Hardy Aviation and Sharp Airlines - the RAAA said without immediate assistance, "Australia will likely see the demise of regional airline services".

---
| | |
| --- | --- |
| | Emma Kelly has been an aviation journalist for almost 30 years. During that time Emma has written about every aspect of the industry, including regional aviation, helicopters, drones, air traffic management, low-cost carriers, MRO, avionics, the passenger experience and airports. Emma worked for a number of aviation titles in the UK, including Flight International where she was news editor, before emigrating to Australia in 2003. Since then, Emma has been a freelance aviation journalist, writing for publications and online services around the world covering the breadth of the aviation industry. |
Emma is currently contributing regularly to Asian Aviation, LARA, Inflight and RotorHub. Past contributions have included Flight International, Rotor & Wing, Air Traffic Management, Airports International, APEX, Cirium and Aircraft Interiors. Emma recently won the Best Rotor Submission in the Aerospace Media Awards Asia, as well as being a finalist in the Commercial Aviation and Training/Safety categories. https://www.linkedin.com/in/emma-kelly-31881727/
---