United Kingdom

Optimism and an open mind - Ellie Carter
with Paul Eden
While we look forward to the beginnings of recovery in our industry over the next few months, the long-term future of what's likely to be a very different aviation ecosystem will be for a new generation of aviators and aviation professionals to decide. Introducing the first in a series, Resilient Aviation talks with future aviators. Interview by Paul Eden.
Seventeen-year old Ellie Carter typifies the new generation of aviators. Part of the easyJet mentoring scheme primarily focused on encouraging girls into aviation, she also has a strong, inspirational social media presence, sharing her piloting adventures and the efforts she makes to achieve them, on Twitter.
"I wouldn't say my hopes and expectations have changed as a result of the pandemic," she says. "I've always kept my mind open when it comes to career options. I'd love to be a test pilot or an aerobatic pilot, but actually I just want to fly."
Right now, that's not an option, but as soon as she can, Ellie plans to fly as much as possible. "I was due to start my aerobatic rating, so I'll try to begin that as soon as I can. But I'm also studying for four A-levels and an extra certificate, and travelling a long way for school, so I still won't be able to fly as regularly as I'd like."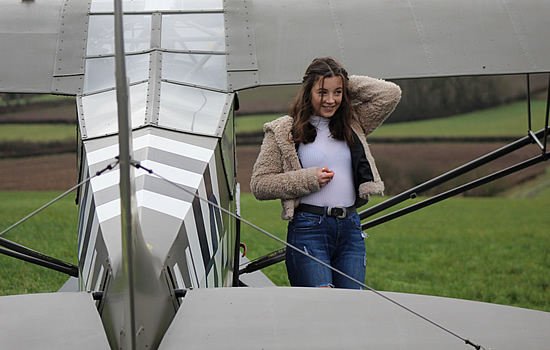 Ellie with the Piper Cub
Teenage pilots, certainly those with Ellie's determination, are rare. Teenage pilots with her taste in aircraft - she prefers the Piper Cub - even rarer. "It's incredible. It is really humbling to fly an aircraft that was flown in World War II. There is also nothing better than flying with the door open in the summer, even though it's absolutely freezing in the winter!"
Devon-born Ellie has wanted to fly ever since she was nine, an ambition encouraged by her author father Neil, who wrote two 350-page novels about female aviators in 1918 New York. Ellie became Britain's youngest solo pilot of a powered aircraft last year, three days after turning 16.
Ellie is on Twitter @dragongirl94
---
| | |
| --- | --- |
| | A life-long, profoundly passionate aviation enthusiast, Paul E. Eden began writing about aircraft in 1996 and became a freelance aerospace writer and editor in 2003. He says his addiction began with a Matchbox Spitfire model kit and the Ladybird Book of Aircraft, around 1975. Since then, he has written for the Official RAF Annual Review and Salute publications, and currently edits and writes Executive and VIP Aviation International magazine. A regular contributor to a number of specialist publications, including Aerospace, the journal of the Royal Aeronautical Society, and airline, cargo and flight test magazines, he also blogs for Runway Girl Network. |
His first book for Bloomsbury, The Official Illustrated History of RAF Search and Rescue, is scheduled for publication in June 2020.
Blog: https://pauleeden.wordpress.com
http://uk.linkedin.com/pub/paul-e-eden/15/9a5/671
Twitter: @TwoDrones
---