United Kingdom:
InstaScan helps FBOs and Operators in fight against COVID-19
Esprit Digital UK launches Government-approved temperature scanner for bizav market.
While many commercial airports remain closed, FBOs around the world are continuing to serve their customers, and safety is the utmost priority.
To protect personnel and essential travellers against the virus, FBOs are implementing various measures. These include the two-meter rule, use of PPE, distributing hand sanitiser and spreading passengers more evenly across terminals.
Since countries have begun to see a slow reduction in the number of COVID-19 cases, policymakers have started looking at how businesses might operate after gradual ease of restrictions, including in travelling.
This week, an NHS app aimed at limiting the second wave of coronavirus will be trialled on the Isle of Wight. According to the UK transport secretary Grant Shapps, this is the first place the new solution will be adopted before being rolled out more widely later this month.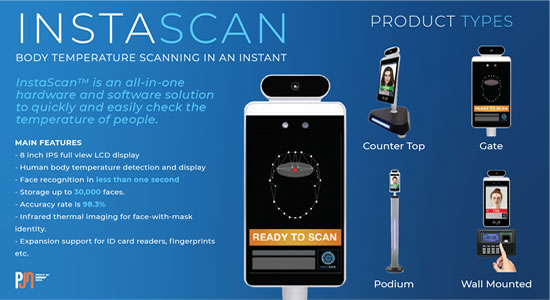 Smart imaging is also amongst the technologies on the list. InstaScan, a product powered by Esprit Digital UK and as of the 4th of May approved by the UK Government, measures the temperature of users in a matter of seconds.
It ensures safe and efficient access control for airports, retailers and other businesses by alerting personnel of individuals who are carrying a high temperature - the NHS and WHO have distinguished this as one of the two main symptoms of the virus.
The FaceSafe™ technology uses the latest high-performance hardware and camera software, giving immediate, accurate results. If required, an InstaScan unit can store up to 30,000 faces for carrying out super-fast facial recognition.
It is also capable of detecting whether or not an individual is wearing a mask. All data is stored locally, so there is no risk of a privacy breach.
Esprit Digital appointed Private Jet Media to be an exclusive distributor of this product in the business aviation environment.
If you'd like to learn more, please contact the team at: