---
Can you remember what you were doing on December 7th 2019? Maybe not, but I would wager most of you were considering the excitement of a new decade in 2020, a fresh start. A global pandemic that has crippled industries across the world in less than six months was probably not high on the betting slip as to what 2020 would actually bring.
But here we are and for sure, aviation will be very different for the next two years at least. The world has now realised that the joy of a globally connected air transport system has also created the perfect transmission network for a virus and that within six months, infected nearly every country on Earth.
What has also been violently showcased is the fragility of the aerospace market. Unlike tech markets that can plough hundreds of millions into ventures that make losses continually, in aerospace with fixed physical assets, there comes a time when a bill has to be paid, or you go bust. We have seen the challenges for airlines before the Wuhan Virus struck, with many going bankrupt and now we see even the largest airlines being given bailouts simply to survive.
Those who have saved for the rainy day are now doing all they can to ride the storm, those who fail to secure bailouts and those who hedged their fuel costs with no conception of $20 a barrel, are feeling the pain. Even the OEM's have finally been forced to cut back production levels, already questionable before this crisis, due to some quality failures in the public domain. In the aviation sector we live in 'cycles', both those on our assets and the markets we operate in. This has just been the end of one of the longest cycles in aerospace history.
Perfect storm for sustainable transport solution
Just recently, we have seen the likes of Airbus and Rolls-Royce retract from R&D projects like Vahana and E-FanX. Whilst some may feel the loss of Tier1 lead programmes is a crisis for sustainable air transport, others would venture that their exits are sensible. Those of us who have been working on innovative, hybrid-electric solutions for regional air transport these past years, are still doing so. Multinational corporates simply cannot match the pace, nor the 'cost base' of the new aerospace innovators - who are start-ups and SME's, not the primes.
Without any external/government backing we have quietly been developing an aircraft that is quieter, produces less emissions and will be cheaper to operate than any existing regional air transport asset to date.
These past few weeks we have all come to enjoy quiet, clean skies and significantly lower pollution levels. The climate change crisis is almost correcting itself. This makes it a perfect storm for a sustainable transport solution. Our innovative aircraft programme is perfectly placed to deliver at least one side of that equation for air transport.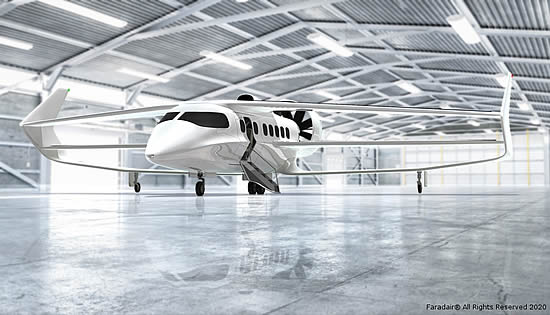 Faradair Aerospace's BEHA
Faradair Aerospace's BEHA (Bio Electric Hybrid Aircraft) is coming to the end of its design optimisation phase and we will soon begin the structural engineering development, to create an economically viable hybrid electric workhorse that uses existing proven turbine propulsion in combination with new electric motor technology.
Packaged in a design specifically created for this new propulsion method is a new hybrid-electric regional air mobility model which we have championed since 2014.
Airlines and OEM's are now realising dreams for fully electric aviation are a little way off for obvious technology and regulation limitation reasons. However, those who have been quietly developing a solution based on actual commercial aircraft market experience, know that BEHA's goal is to link communities throughout the world, bringing affordable point to point air transport service. We can also fulfil a range of additional roles from cargo, firefighting, humanitarian relief, emergency response, through to non-civilian applications.
We are familiar to working conditions similar to isolation for the last six years, so we may over these last two months, be coping with this new normal better than some.
I'm pleased to say that we are now fielding calls from potential partners and airlines that are seeing a very different air transport future and one that we hope to deliver within three years.
The BEHA is forecast to be flight ready by the end of 2023, providing funding is secured to continue our development programme. Naturally we intend and hope that this work would be conducted in the UK, but unless we can change the philosophy that all UK aerospace innovation funding must be filtered through involvement of the UK Tier1 primes, that task will possibly end up offshore. Our work and our mission is here www.faradair.com and we are delighted to answer any questions on our programme.
One thing to come from this global pandemic is the clear need to transform our air transport network, including better viral containment procedures. It needs to be cleaner, quieter and more sustainable, both environmentally and economically, giving those who operate within the sector the ability to survive future cycles of which there will be more, of that there is no doubt.
Stay safe and well everyone and here's to blue skies and tailwinds in the near future!
---
About the Author
Neil Cloughley is Managing Director of Faradair Aerospace Limited, founded in 2014 and an early champion of hybrid/electric flight within the new Urban/ Regional Air Mobility sector.
He has spoken at conferences across the globe. Faradair® has won multiple business awards whilst developing the BEHA M1H (Bio Electric Hybrid Aircraft. Neil is an experienced aviation industry executive and entrepreneur with 17 years in the commercial aviation sector working with some of the largest aviation brands and financial institutions.
Faradair® has presented to and gained support of cabinet members of the UK Government, advising on future flight policy and potential military applications for the BEHA M1H.