Airports
Airports start readying for the rebound
By Chloe Wilson
Although the road to recovery for aviation remains long and tumultuous, the last couple of weeks have seen a trickle of growth in activity within the industry that is spurring on the hopes of passengers and stakeholders alike.
With countries starting to ease their lockdown restrictions, the Hungarian low-cost carrier Wizz Air has resumed limited services from London Luton Airport in the UK to destinations including Lisbon in Portugal, Tenerife in Spain and Budapest in Hungary. It has also reopened its base in Timisoara, Romania.
As can be expected to be the norm going forward, customers are advised to check-in and make any additional purchases such as extra baggage online to reduce all non-essential interaction at the airport. Arrival at the airport up to four hours ahead of a flight and physical distancing before boarding are also advised.
Indeed, the passenger journey through the airport is likely to be a very different one in the post-pandemic world.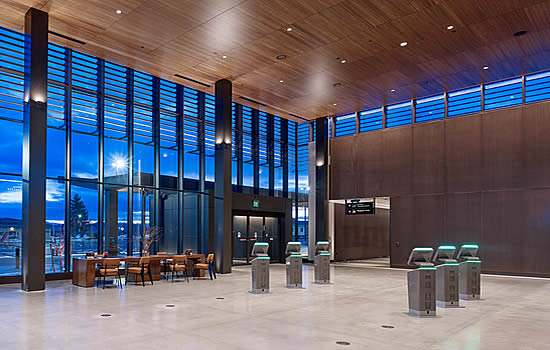 As airports prepare to resume commercial and general aviation operations, they will be required to demonstrate that proactive measures are in place to safeguard the health and wellbeing of employees and customers. At Bournemouth Airport in the UK Thermal Fever Detection Technology is being trialled. The technology uses devices ranging from handheld to fixed multi-camera systems to record body temperature and identify anyone displaying signs of fever. Real time alerts enable staff to intercept passengers showing high temperatures and will ultimately help prevent the spread of a virus.
It's a similar scene at Paine Field Airport in Washington, where Propeller Airports has implemented a fever detection system which has been developed by Athena Security. Prior to entering the airport, passengers will be screened by a thermal camera which will help determine whether they are fit to fly. The airport has also introduced innovative UV technology to disinfect and clean high-touch areas throughout the passenger terminal, including check-in desks.
Introducing the four Ds
And at in Italy Chiara Dorigotti, CEO of Milano Prime - the sole manager of the business and general aviation infrastructures at Milan Linate and Milan Malpensa airports - reveals how they have "introduced the four Ds: Distancing, disinfection, devices and digitalisation to address the current health emergency." She adds that they have implemented strict protocols for social distancing for operators, passengers and employees and are regularly sanitising and disinfecting high touch points and passenger lounges throughout their FBO facilities at both airports. "Devices have been provided to employees including masks and gloves and thanks to the digital transformation those who can work from home are required to do so," she says.
We will all have to adapt when it comes to how we travel tomorrow, but new health and safety protocols are an adjustment many will be willing to take if it enables them to take to the skies and fly again!
---
Chloe (Wilson) Greenbank

wrote her first airline magazine nearly two decades ago and has been immersed in aviation magazines ever since. She is a highly experienced editor and reporter who has worked for over a decade in the publishing sector specialising in the global aerospace industry. As senior editor at one of the world's leading travel media companies, Ink, she was tasked with launching and overseeing various titles including two inflight magazines for Brussels Airlines. With a solid understanding of the inflight market, she has also contributed to magazines for airlines including easyJet, MyTravel, Thomas Cook, Virgin Express, Ryanair, British Mediterranean Airways, Air Burkina and Korongo Airlines.
In 2017 Chloe moved over to the B2B publishing industry when she joined HMG Aerospace for whom she edits Regional Gateway and contributes to a number of titles including LARA and Inflight. She also contributes to the Times Aerospace Group's African Aerospace. Having strengthened her knowledge and understanding behind the global aviation community Chloe has been a working journalist on the Emerald Media team since early 2018, primarily supporting its client Air BP.
---