WINGX Global Market Tracker
No signs of pick-up yet, smaller jets and props more resilient
According to WINGX`s weekly Global Market Tracker published today, 80,000 business aviation sectors have been operated worldwide this month - through to the 21st - equating to 110,000 flight hours, a drop of 73% compared to same period of April 2019.
Business aviation activity represents 17% of all global fixed wing activity in April, almost double its historic share; scheduled aviation activity is down by well over 80%. As a reference, global cargo activity is the least affected sector, with specialist cargo operations down 20% this month.
All geographic regions have been severely impacted by COVID-19, with the largest markets in Europe and North America equally seeing more than 70% decline in business aviation flight sectors. Flights out of Africa have a similar trend, with South America down by 65%, Oceania relatively resilient at 55% below normal. However, there are no obvious signs of market recovery in regions of the world where lockdowns have been lifted, notably Asia. Domestic markets appear to be more resilient, intra-national flights in Sweden, China, Canada, Australia down around 50%.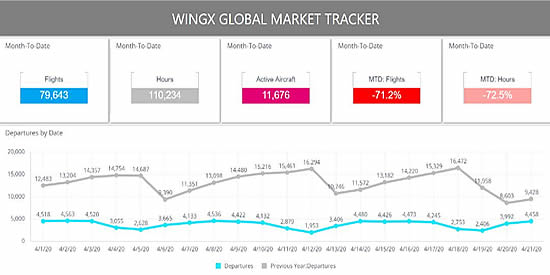 Business aviation activity (departures and flight hours, props, jets) is down by 71% worldwide
in April so far.
Aircraft
All business aviation cabin segments have seen big drops in activity this month. The turboprop segment is the most resilient, operating about half the overall activity, with utilisation 50% below normal. The two busiest business aviation aircraft types are the Caravan and PC-12. The larger cabin jets notably ultra-long range and heavy jets are seeing 80%+ drops in flight activity this month. The busiest jet is the Citation Excel/XLS, flights down by 70%.
Managing Director Richard Koe comments: "Business aviation activity trends this month are settling around 70% below normal. It's clear that a large proportion of fleets are currently parked, with operators constrained from responding to residual demand by varying geographic levels of virus suppression policy.
"With the lockdown measures in the US and Europe now set to lift at least partially in the next month, we expect a surge in pent-up demand which business aviation operators will be well positioned to meet. The mid-term outlook is less promising, given the systemic economic impact which is materialising. Hence our longer-term projection is for a W shaped recovery in flight activity."
Global Business Aviation Brief (PDF)
---
WINGX is a data research and consulting company based in Hamburg, Germany. WINGX analysis provides actionable market intelligence for the business aviation industry. Services include: Market Intelligence Briefings, Customised Research, Strategic Consulting, Market Surveys. WINGX customers range from aircraft operators, OEMs, airlines, maintenance providers, airports, fixed base operators, fuel providers, regulators, legal advisors, leasing companies, banks, investors and private jet users.