United Kingdom
Up and Away Aviation completes 383rd disinfection
Disinfecting aircraft cabins has become the primary focus of Up and Away Aviation's specialist aircraft valeting and cleaning business these past months. On 27th February it took its first booking for the service.
"We didn't take COVID-19 seriously then, but wisely we took the decision to make a significant investment in equipment, machinery and PPE," said Managing Director and owner Stefan Murphy."We bought loads of masks, oversuits, goggles, disinfectant sprays etc - all the things you'd need to operate safely during the outbreak so we were actually very well prepared. Then the virus got very serious and mindful of our customers flying long haul we sourced Universal Precaution Kits."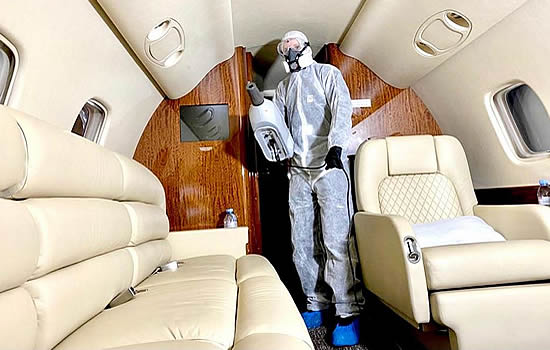 Up and Away has just completed it 383rd disinfection.
It has also seen its customer base widen to cargo aircraft (crew amenities and rest areas must be disinfected with manpower uploading the cargo and cargo holds) NPAS, the National Grid, Police helicopters, Air ambulances and surveillance operators have also turned to Up and Away.
Stefan was able to dip into his father's contacts to access the wholesale community for genuine, endorsed supplies. His father retired five years ago but he has a wealth of supplier contacts who have been keen to help. "We also took to LinkedIn to get additional supplies and ended up building around 1,200 UPKs enabling us to support operators pre-flight straight to the aircraft doors." Up and Away also shipped supplies to support clients based in Paris, Nice and Poland.
"Prior to COVID 19 we were gearing up for a very busy year. We had just secured a new contract with NetJets, for restocking services and cleaning on turnarounds. This year our business aviation fixed contract activity grew to around 70 aircraft on fixed monthly fees. We added bases at London City and Manchester Airports and had increased the staffing levels by 50%."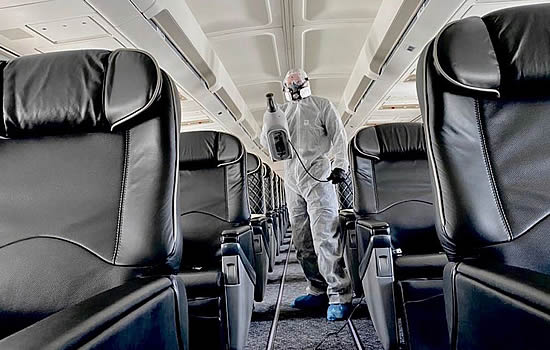 At the end of last year too, Up and Away, which has headquarters at London Oxford Airport, was looking at add up to four new bases in Europe. "This is still very much the plan, but we will revisit that in 2021, says Stefan.
"Now we have the business in safe mode. Before the lockdown we had 73 staff, excluding management, working across eight locations. We scaled that back to 25 temporarily and I am hands on with the business, coming into the office most days.
"Our London City Airport base shutdown two days prior to the UK lockdown being announced (it's now being used by the military only.) Our other key bases Luton, Farnborough, London Biggin Hill, Oxford, Stansted all have much reduced activity. Leeds, Doncaster, Prestwick - supporting our current customer base.
"This whole experience has been demanding, but finding solutions has been very rewarding. For sure companies and individuals are going to take cleaning and disinfecting their aircraft very seriously from hereon in. The aircraft is a public space and clients will be prioritising the health and welfare for their passengers and crew."