Latvia
Riga Airport shows resilience
On 17th March Latvia, together with the two other Baltic states Estonia and Lithuania, declared a state of emergency in response to COVID-19.
All three countries closed their borders, effectively shutting down a significant part of all aviation activity. Exceptions were granted at Riga Airport, enabling a rush of evacuation and repatriation flights to get citizens back home, with ambulance operators being among the quickest to respond.
Over the past few weeks, many Latvian residents successfully used diverse options to get home. According to new data from the Latvian Transport Ministry, business and general aviation accounted for up for 24% of such journeys.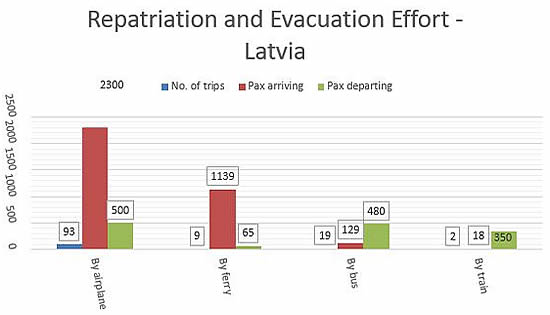 Source: Latvian Transport Ministry, delfi.lv.
Riga Airport typically handled approximately 250-280 business and general aviation movements per month, as well as keeping open for tech stops, fuelling, air ambulance and military flights. Repatriation flights centred on other Central European airports, with passengers not entering Latvia. Instead in the last weeks, Riga Airport has welcomed heavy military transport aircraft transporting much needed medical supplies to some of Europe's most affected areas.
Capital Handling Riga remains open for ambulance flights. "Thanks to efficient procedures, established in close partnership with the local airport authorities, its handling mirrors the comfort the patient experiences aboard the air ambulance," said Capital Handling Riga's Eduards Sakels.
"Throughout this difficult time, we ensure our colleagues working on the ramp and at the FBO use protective gear and follow all established guidelines to protect their own health and that of others. We are all in this together and are looking forward to coming out of this, stronger, soon."