United Kingdom
East Anglian Air Ambulance appeals for PPE funding to continue critical missions
By Paul Eden
East Anglian Air Ambulance (EAAA) in the UK operates two H145s (Anglia One) from Norwich, and (Anglia Two) from Cambridge, covering Bedfordshire, Cambridgeshire, Norfolk and Suffolk, although its teams are occasionally tasked to Hertfordshire, Essex and Lincolnshire. Depending on the location of a patient and their medical needs, EAAA may also fly patients in to London for treatment.
Its helicopter emergency medical service (HEMS) coverage overlaps slightly with those of Magpas and the Essex and Hertfordshire Air Ambulance, so that if one HEMS team is busy, or offline, then the next closest and available is dispatched. The HEMS teams also work together on major incidents and share many of the same problems, including the sudden, unexpected need for PPE.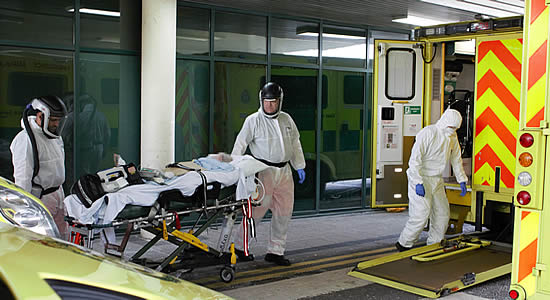 An EAAA medical team assists in a COVID-19 patient transfer
Often departing for a mission with limited information today, EAAA crews assume every patient they attend could have COVID-19 and must therefore be equipped with PPE. Kat Lawson-Phillips, EAAA PR and Marketing Lead, explains: "We may have to operate in this way for some time, but the cost of PPE was unexpected and we hadn't budgeted for it. The medical teams often need to perform emergency care procedures, like intubating a patient to take over their breathing, and without the right PPE they could be at great risk of being exposed to a high viral load, which might make them very unwell very quickly."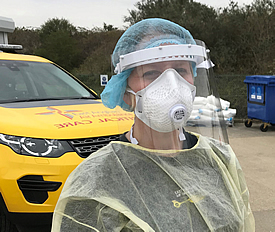 With fewer people at work and on the roads, EAAA has seen a decline of around 30% in its normal HEMS work, but is still attending 999 calls to 'very unwell or injured patients'.
In addition, EAAA is now also using its helicopters to rapidly move its medical teams into place so they can monitor critically ill COVID-19 patients during transfer by land ambulance to hospitals with more intensive care capacity.
"We're expecting a substantial need for these transfers in the coming weeks," Lawson-Phillips says.
EAAA staff member demonstrates some of the required PPE
EAAA launched a £100,000 PPE appeal on 7 April. Lawson-Phillips explains: "We estimate this will provide sufficient emergency PPE and equipment to keep our crews safe for six months, enabling us to continue treating patients in the pre-hospital environment during the coronavirus pandemic.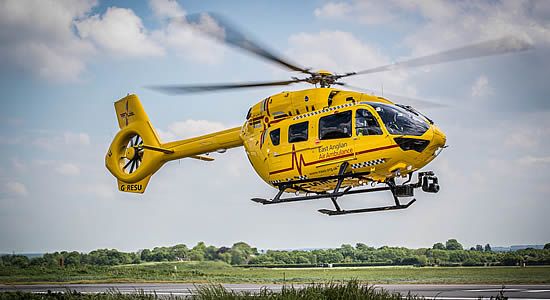 Anglia One, H145 G-RESU, based at Norwich Airport | Perfect Pose Photography.
"We've been really impressed with the generosity of our supporters and already seen £50,000 donated through our website." With half the required funds still to raise, she says donations are key, since scrubs are so far the only equipment EAAA has asked for help in sourcing, receiving "a lot of help very quickly to fulfil the need".
https://www.eaaa.org.uk/support-us/protective-equipment-appeal

---
| | |
| --- | --- |
| | A life-long, profoundly passionate aviation enthusiast, Paul E. Eden began writing about aircraft in 1996 and became a freelance aerospace writer and editor in 2003. He says his addiction began with a Matchbox Spitfire model kit and the Ladybird Book of Aircraft, around 1975. Since then, he has written for the Official RAF Annual Review and Salute publications, and currently edits and writes Executive and VIP Aviation International magazine. A regular contributor to a number of specialist publications, including Aerospace, the journal of the Royal Aeronautical Society, and airline, cargo and flight test magazines, he also blogs for Runway Girl Network. |
His first book for Bloomsbury, The Official Illustrated History of RAF Search and Rescue, is scheduled for publication in June 2020.
Blog: https://pauleeden.wordpress.com
http://uk.linkedin.com/pub/paul-e-eden/15/9a5/671
Twitter: @TwoDrones
---