United Kingdom
Doors stay open as On Air Dining supplies meals to UK charities and NHS
By Paul Eden
On Air Dining CEO Daniel Hulme was expecting a 'game-changing' 2020. "We just won a NetJets contract, our Farnborough facility was ramping up nicely and I was looking forward to a profitable, happy year."
Now, although many staff are furloughed and the Farnborough unit is temporarily closed, Hulme is working hard to keep the company ticking over.
"Business aviation is about customer service and what we do is make sure the customer has what they want, when they want it. If I closed my doors I think it would damage my reputation, even though people might understand why. Keeping the operation going to some (lesser) degree shows the strength of the business."
Hulme is confident business aviation will bounce back early and strongly. He says getting through the next three or four months is critical, but the company is ready to ramp back up in hours rather than days or weeks.
Meanwhile, On Air Dining has expanded its existing commitment to charity work. Operating exclusively out of London Stansted's Diamond Hangar, the company has been creating and delivering hundreds of meals every day; 300 had gone out on the day Hulme spoke to Resilient Aviation, 500 the day before. If the requirement grows to 'a few thousand a day', he's ready to 'turn Farnborough back on'.
"I spoke to my suppliers and secured massive discounts, so we can create a complete hot meal for no more than £5. I'm covering the manpower, delivery and other costs and we've set up a JustGiving page to help cover the cost of the food itself.
"We're supporting a charity in Nottingham that works with orphaned and high-risk kids; it's been heartbreaking talking to the guys running it - these kids normally get one hot meal a day and that's their free school dinner.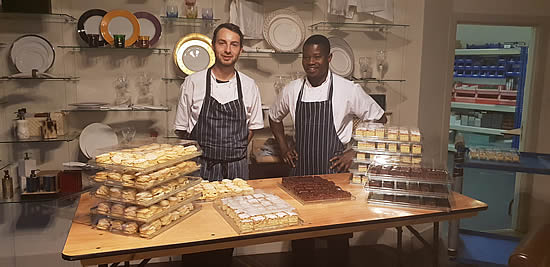 "Plus we're still supplying charities we've been supporting for a few years, where we've been feeding around 150 homeless people on Christmas day, plus we do meals for some really vulnerable old people who only get out once a month. Anything we've got left after these and the Nottingham kids is pumped into our local NHS."
Hulme hopes the JustGiving page will raise sufficient funds for On Air Dining to extend its help to even more vulnerable or struggling people.
www.justgiving.com/crowdfunding/daniel-hulme

---
| | |
| --- | --- |
| | A life-long, profoundly passionate aviation enthusiast, Paul E. Eden began writing about aircraft in 1996 and became a freelance aerospace writer and editor in 2003. He says his addiction began with a Matchbox Spitfire model kit and the Ladybird Book of Aircraft, around 1975. Since then, he has written for the Official RAF Annual Review and Salute publications, and currently edits and writes Executive and VIP Aviation International magazine. A regular contributor to a number of specialist publications, including Aerospace, the journal of the Royal Aeronautical Society, and airline, cargo and flight test magazines, he also blogs for Runway Girl Network. |
His first book for Bloomsbury, The Official Illustrated History of RAF Search and Rescue, is scheduled for publication in June 2020.
Blog: https://pauleeden.wordpress.com
http://uk.linkedin.com/pub/paul-e-eden/15/9a5/671
Twitter: @TwoDrones
---