Risk Management:

Data-led risk management - seeing the complete picture, in real-time

Andrew Nicholson, CEO, Osprey Flight Solutions.
The Covid-19 pandemic has caused greater disruption to the aviation industry than anything before and it will be several years before we know the full extent of this impact. It is, understandably, demanding all of our focus right now. But the need to monitor other risks has not gone away.
Flight operations are still being conducted, and at this critical time having a comprehensive picture, both in terms of Covid-19 and other risks, continues to be an essential component of the operational cycle.
We will get through this, and when we do, we need a fully operational aviation network as quickly as possible. That means on the first day that flights resume, having a complete, global picture of aviation risk, without gaps caused by the singular focus that the pandemic has demanded. That is what Osprey is here for; as well as providing the most up to date, accurate (and free) data on Covid-19, we continue to gather data, analyse and report on all global risks, so that you have that complete picture when you're able to resume operations.
The world we live in is becoming ever more challenging. Operators have to sail ever closer to the wind to keep flight times, fuel burn and carbon footprint to a minimum whilst keeping risk at an acceptable level. But risk management techniques have not kept pace with the corresponding need to be more precise with the quantification of risk.
Where risk management exists, it still relies, to a greater extent, on a purely human-based process. There is one fundamental flaw with this; humans are inherently subjective in their understanding of a situation. This inherent subjectivity undermines the accuracy of the three most important pieces of the risk assessment puzzle; threat identification, likelihood, and impact assessment. The problem is that if you put two independent people in exactly the same situation, they will each have a different perspective. So, how can we expect our assessment to be consistent, objective or accurate when the core of it depends completely on who is conducting it?
An analyst's strength is filling gaps with knowledge and experience. When there is limited information about a situation, a human can make an assessment, but that assessment is based on an assumption within their sphere of knowledge - in fact it is human nature to assume this and ignore the possibility that there is a better model, outside of their knowledge. The problem is that humans are limited in their capacity for information retention, there is only so much they can remember accurately.
This is where data and technology brings such power to the process. By continuously gathering, verifying and corroborating, geo-locating and categorising large amounts of data that are risk indicators, human analysts have a far more comprehensive, robust picture and the gaps are no longer filled with assumptions, but with objective facts.
It's not all Covid-19 . . .
Iraq Rocket Attacks - Airspace Closures
As mentioned, there are still situations that pose a significant risk to aviation, and we need to monitor and report on these, as well as Covid-19, to ensure we maintain a complete picture.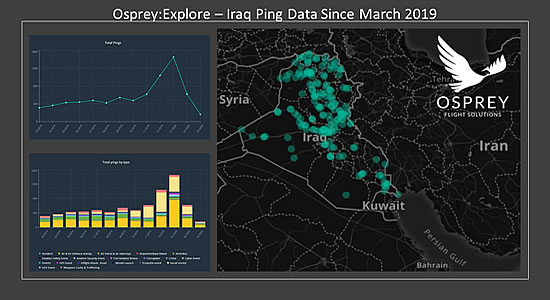 On 11 March 2020, a rocket attack involving at least 15 projectiles conducted by suspected Iranian-backed Iraqi Popular Mobilisation Unit (PMU) militia forces targeted Al Taji Army Airfield, north of the Iraqi capital Baghdad. One US soldier, one US civilian contractor and a UK armed forces member were killed due to the attack.
Osprey issued a Critical Alert that recommended the deferral of all flights to and over Iraq, 24 hours before authorities issued the same via a NOTAM by the US on 12 March, and Canada on 13 March.
The Osprey Alert was issued ahead of the retaliatory airstrikes by the US, rather than as a result of NOTAMs published after the event. The timeliness and detailed analysis, allowed operators to anticipate the risk ahead of time rather than reacting retrospectively.
Russian bomb hoaxes and emergency landings
Since 3 March 2020, over 100 Russian commercial passenger aircraft conducting domestic flights made emergency landings due to anonymous bomb threats made while in-flight, including 77 from 20-26 March alone.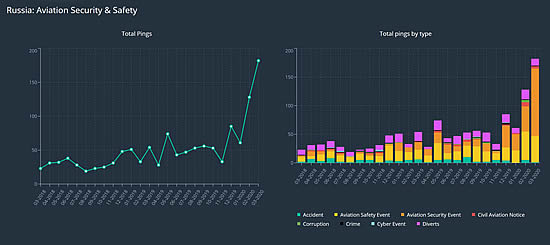 The majority of flights affected were either arriving or departing from Moscow's Sheremetyevo & Domodedovo airports. The incidents are assessed to be hoaxes. The Russian security services are investigating and the threats have reportedly been made by anonymous perpetrators seeking to extort bitcoins and threatening to continue to spam government agencies with hoaxes. Separately, approximately 40 bomb threats were made against Russian airports from December 2019 to February 2020. In many cases, other buildings in the same cities also received threats. Many of the incidents occurred at the Moscow-area airports, with 2-3 impacted each time. No devices were discovered.
Since Osprey tracks aviation security events at a micro level, our analysts are able to identify trends and patterns at both airport and country level. The Osprey system compiled detailed information on airlines affected and identified specific airports where the threats were being made. The team were then able to outline the methods used in the delivery of the bomb threats as well as differentiate the modus operandi of recent aircraft incidents versus past airport events.
But, it's mostly Covid-19 for now . . .
On 3 March 2020, we launched Osprey:Open, an individual-user based version of our revolutionary risk management service. Designed to deliver unparalleled risk management support to the industry, the platform provides a base level of security data and information for anywhere in the world.
We have already, in addition to the standard datasets, overlaid Covid-19 cases for each country showing the growth and rate of infection. We've also overlaid all Covid-19 NOTAMs for countries and international airports, as well as adding current travel restrictions.
When we announced these updates, we reached out to the industry to ask what else would help, and indeed, if there were further datasets they had access to that we could add. That plea remains. We will continue to listen. Enhance. Innovate. Share. The absolute priority right now is to provide the most accurate reporting to give the earliest possible warning that business can resume.
By working with and listening to our industry, we have made accessible the best data and analytics available anywhere, in a single interface. We do this not for commercial gain, in fact access is completely free. It's about more than that: it's about our commitment to an improvement in risk management. It's about our belief that everyone should have access to the latest, curated data to support this - because only then can we truly understand the environment in which we operate and see the complete picture, in real time.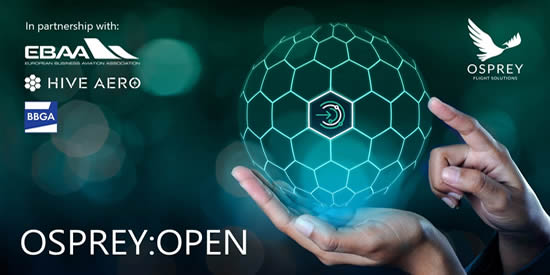 Sign up to Osprey:Open, completely free of charge at: https://open.ospreyfs.net/