United Kingdom
World Fuel Services supports world's largest wind farm
WFS to provide Jet A-1 fuel to support increased demand for sustainable energy
World Fuel Services (WFS) has won a tender to provide Jet A-1 fuel to the helicopter service for Hornsea One offshore wind farm.
The relationship will see World Fuel working in conjunction with Ørsted and Swire Oilfield Services in response to the unique challenges presented by running the world's largest wind farm –including access and extreme weather conditions.
Ørsted was looking for a single counterparty to do it all – supply jet fuel from terminal to quayside and act as the single point of contact to meet all of the complex requirements associated with such a project.
The Jet A-1 fuel provided by World Fuel will be crucial, ensuring helicopters can transport technicians to and from the wind farm to conduct vital maintenance and repairs. Whilst on shift, the technicians live and work aboard the state-of-the-art Service Operations Vessel (SOV), the Edda Mistral for two weeks at a time. The Edda Mistral enables employees to benefit from the walk to work scheme via a motion compensated gangway, which is a safer method of transferring to the turbine during difficult weather.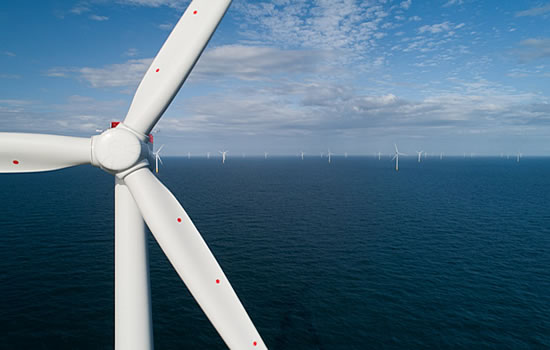 The Blades of Hornsea are 75m long | Photo Orsted,
World Fuel delivers the fuel to a dedicated facility specialising in supplying offshore, operated by Swire Oilfield Services. Here the team fills specialised helitanks ready for transportation. Once delivered to the quayside, Ørsted transport the helitanks to refuelling stations.
The wind farm is the first ever offshore wind farm to reach a capacity of over 1GW and is home to 174 turbines, each approximately the height of the Gherkin in London, located 120km off the Yorkshire coastline. The project will produce enough sustainable energy to power well over one million homes throughout the UK.
Mark Atherton, director at World Fuel Services, says, "We pride ourselves on building bespoke solutions tailored for our customers' unique needs and this project is the perfect example of just that, while aligning with our commitment to a sustainable future. Fuel provision projects are never one size fits all and we're prepared to work flexibility to ensure success in any environment.
"This collaboration with Ørsted and Swire Oilfield Services will see World Fuel working alongside like-minded companies focused on sustainability to ensure the Hornsea One wind farm is the success story we know it can be."
Morten Holm, Head of Hornsea One Operations said: "In order to effectively operate the world's largest offshore wind farm, it's imperative that we can benefit from on-time deliveries as well as efficient storage of heli-fuel and WFS have proved their ability to provide this service.
"To maximise output from Hornsea One, our operations must be as effective as possible and we should be able to react quickly to solve any errors offshore, which is where the need for helicopters comes in.
"Whilst our troubleshooting technicians are based offshore continually, helicopters are able to provide the team with fast access to any issues that may arise on the turbines. By having a seamless support network in place, we're able to work towards our company vision of creating a world that runs entirely on green energy."
Matt Nicoll, Swire Oilfield Services UK Commercial Manager commented, "We are delighted to be working tightly with World Fuel Services and Ørsted to deliver a safe and efficient fuel service that will support this landmark project.
"Having serviced the oil and gas industry for over 40 years, Swire Oilfield Services understands the challenges of these environments, and have harnessed these learners to ensure the equipment and services we provide can withstand the demanding nature and operating landscapes of the renewable energy sector."