WINGX Market Tracker:
Aviation activity at near standstill as Europe becomes virus epicentre
WINGX's weekly 'Market Tracker' keeps you up to date with business aviation trends in light of the current Coronavirus pandemic.
Business aviation flights to and from Europe are down by 24% so far in March 2020 compared to the same days in March 2019. The slowdown accelerated into a slump last week, with flight activity over the most recent weekend falling by 70%.
Italy has been most affected, with business jet and turbo prop flights down by 65% this month, which amounts to a reduction of just under 2,000 sectors. Flights to and from France, Turkey, Belgium, The Netherlands and Poland are down by 30% or more. Transatlantic flights are also down by a third this month.
The UK is the busiest business aviation market this month, with only 8% reduction in flight movements, and flight hours for flights are trending up so far in March. There has also been an increase in flights from Sweden, Portugal, Latvia and Estonia. Flights from Europe to Cyprus, China and the UAE are up this month.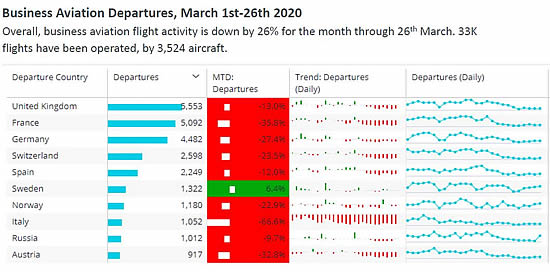 In terms of airport activity, the top airports have seen significant decrease in activity, although these reductions are generally trending below the overall market decline. Le Bourget and Geneva are significant exceptions. Month-to-date trends for London airports show less effect, and indeed Biggin Hill activity is up so far this month.
All aircraft segments are flying a lot less compared to March 2019, with the biggest drops in large aircraft activity; Bizliners, Ultra-long range and Heavy jets. Very light and Super light jet activity is least affected, down by 10-15%.
The busiest aircraft types so far this month have been light jets and props, such as King Air 200, PC-12, Citation Mustang, Phenom 300, CJ2. Bombardier Global 6000/6500 is the busiest large jet month-to-date. A few aircraft have increased activity in March, including Lear 40 and PC-24.
By Operator Type, Aircraft Management companies have seen 40% reduction in flights, whereas Branded Charter operators, which had strong growth at the start of the month, are down only 10% month-to-date. Ambulance flights have more than doubled, whereas ad hoc Cargo operator activity has slumped.
Managing Director Richard Koe comments: "In the first week of this month, as the virus diffused across Europe, business aviation activity increased in several countries, reflecting the increasingly urgent demand for rescue and repatriation.
"With Europe becoming the epicentre of the pandemic in the last 10 days, government suppression policies have eroded that demand more severely. So far this week, business aviation is operating at about 50% of normal frequency, which may indicate an ongoing resilience. This could be essential, with airline capacity shutting down and scheduled flights down by almost 80%."
In upcoming Trackers WINGX will be capturing all global business aviation activity on a multiregional basis and relating these trends to wider trends in airline and cargo movements.
---
WINGX is a data research and consulting company based in Hamburg, Germany. WINGX analysis provides actionable market intelligence for the business aviation industry. Services include: Market Intelligence Briefings, Customised Research, Strategic Consulting, Market Surveys. WINGX customers range from aircraft operators, OEMs, airlines, maintenance providers, airports, fixed base operators, fuel providers, regulators, legal advisors, leasing companies, banks, investors and private jet users.