WINGX Market Tracker:
Coronavirus impact accumulates, with some growth niches
The first in a series of new weekly reports from WINGX - 'Market Tracker' - keeps us up to date with business aviation trends in light of the current Coronavirus pandemic.
Overall, business aviation flight activity in Europe is down by 6.9% during the first 17 days of March, with big fluctuations day-to-day, and a trend towards severe overall decline during the last few days.
In the busiest business aviation markets, France has seen the largest decline with 12% fewer flights and Germany down by 4%. But so far, Spain, the UK and Sweden departures are all up vs. the same period 2019.

European Business Aviation Countries March 1-17 2020 - Daily-Trends.
Small aircraft have evidently been doing much of the repatriation work, mainly within Europe; Super Light, Super Mid, Very Light and Entry Level flights are up. Large Jet activity is well down.
Paris Le Bourget has seen the biggest drop in activity month-to-date with flights down by 11%. Whereas, so far, flights out of London are well up, notably from Farnborough, Luton and Biggin Hill.

Top European Business Aviation Countries March 1-17 2020.
In terms of domestic country activity, France and Italy have seen very big reductions. Flights within Germany and within Sweden are well up. Month-to-date trends are converging downwards in last week.
By Operator Type, Aircraft Management companies have seen a big reduction in travel, whereas Branded Charter operators have growth trends month-to-date. Private flight departments are also busier.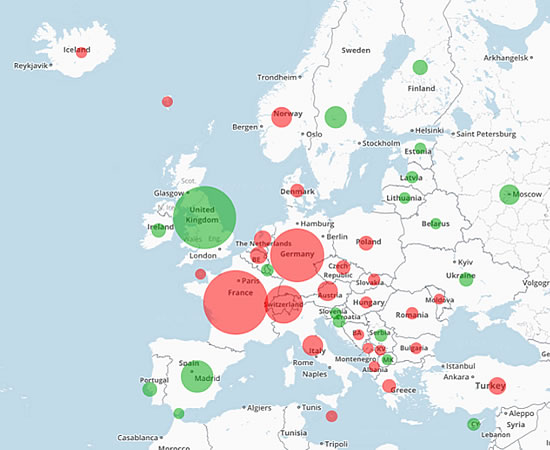 European Business Aviation Countries March 1-17 2020 Map.
Managing Director Richard Koe comments:
"Business aviation is clearly impacted by Coronavirus, with accelerating declines in the last few days belying the overall 7% drop month-to-date. We expect flights to dry up next week once restrictions are stricter and the repatriation rush is done.
"That said, notwithstanding the enforcement of personal travel, we do expect a strong demand for business aviation to fill gaps left by the grounding of airline capacity. By comparison with business aviation, airline flights have declined much more heavily.
"Looking forward, the economic impact of Coronavirus, already well evident in stock markets and bond yields, is bound to strike the business aviation industry relatively hard, particularly where expenditure has been discretionary.
---
WINGX is a data research and consulting company based in Hamburg, Germany. WINGX analysis provides actionable market intelligence for the business aviation industry. Services include: Market Intelligence Briefings, Customised Research, Strategic Consulting, Market Surveys. WINGX customers range from aircraft operators, OEMs, airlines, maintenance providers, airports, fixed base operators, fuel providers, regulators, legal advisors, leasing companies, banks, investors and private jet users.