United Kingdom
Harrods Aviation respond to customer demand
Electric car charging points at Luton; New ambulift for London Stansted
Harrods Aviation have made another significant investment in response to increased customer demand by providing electric car charging points at their London Luton base and a new VIP private ambulift at the London Stansted base.
The new electric vehicle charging points have been installed in response to an observed increase in the number of electric cars being parked in the car park at the Luton FBO. Customers now have the opportunity to ensure their car is fully charged prior to their return to the UK. Harrods Aviation decided upon the widely recognised Rolec software to manage this service via a mobile app.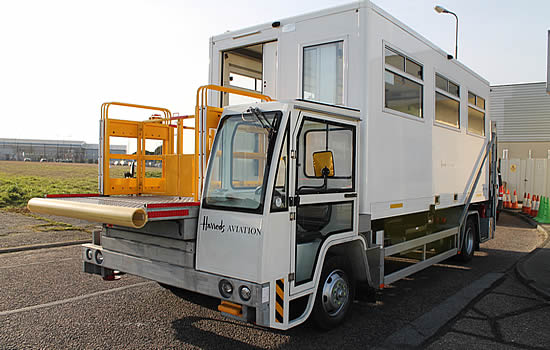 New ambulift at London Stansted Airport.
The wide-body ambulift can assist passengers with reduced mobility embark and disembark their aircraft with minimal fuss and is a useful new addition which compliments the suite of GSE equipment already available.
Kerry Besgrove, Operations Director for Harrods Aviation says, "We continue to listen to our customers and respond accordingly. The charging points at Luton were an obvious next step as we continue to upgrade our facilities. The ambulift not only enhances our service offering but also removes any concern over a delay caused by a third party. The ambulift can provide much needed assistance at critical times and once again we are proud to be able to provide our customers with a first class, discreet service without the need to rely on an outsourced service partner."