Washington, DC
Kobe Bryant helicopter had nearly cleared cloud layer, say investigators
The National Transportation Safety Board (NTSB) released an "investigative update" on Friday (February 7th) on the helicopter crash that killed a total of nine people on January 26th in Calabasas, California, including Lakers legend Kobe Bryant and his 13-year-old daughter Gianna.
The report covers what has been pieced together about Island Express Helicopters pilot Ara Zobayan's flight through the foggy conditions that day. It's likely to take a year for authorities to fully conclude what happened.
Radar indicates the helicopter only ascended to 2,300 feet above mean sea level (msl) before veering left and descending to the fatal crash.
The National Weather Service had analyzed an NTSB photo to find the top of the cloud layer the helicopter had been traveling through was at about 2,400 feet msl. About 100 feet had been between the helicopter and the cloud surface.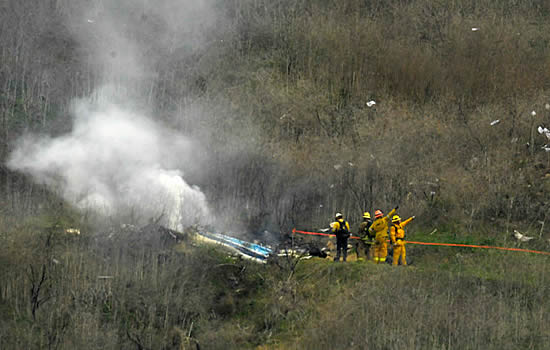 Federal investigators say wreckage from the helicopter did not show any outward evidence of engine failure. Photo: Associated Press / Mark J. Terrill.
Air safety consultant Kipp Lau told the Associated Press that had the helicopter continued to ascend, assuming it was traveling at 500 feet per minute, the craft could have broken through the cloud surface in just 12 more seconds. But Zobayan broke from the path at that point, turning left before descending at 4,000 feet per minute at a speed of 160 knots, a little over 180 mph.
"If you exit the bottom of the clouds at 4,000 feet per minute at that high speed, you've certainly lost control of the aircraft," Lau said.
A witness on the mountain bike trail near the crash told the NTSB that the area had been surrounded by mist when he began to hear the sound of a helicopter. The sound grew louder for the witness before he caught sight of "a blue and white helicopter emerge from the clouds passing from left to right directly to his left," according to the report. The craft then rolled to the left, far enough for him to see the belly of the helicopter. About two seconds later, it crashed into the hillside.
Helicopter pilot Mike Sagely told the AP that the path of the helicopter suggests Zobayan had started to execute a maneuver to designed to move above the clouds by flying up and forward. However, he added that when pilots deviated from the pop-up maneuver to instead turn, "probably in the neighborhood of 80 to 90% of the time, it's catastrophic."
The report says Zobayan's most recent flight review, from May 2019, included "proficiency training in inadvertent entry into instrument meteorological conditions (IIMC) and unusual attitude recovery." Zobayan had earned satisfactory grades.