Brussels
Coronavirus outbreak: EBAA updated advice for operators
The European Business Aviation Association (EBAA) is closely monitoring developments related to the Corona '2019-nCoV's outbreak in the city of Wuhan, China.
In addition to the Safety Information Bulletin issued last week, the European Union Aviation Safety Agency (EASA) and the European Commission Directorate for Health and Food Safety (DG SANTE) have released updated advice to operators related to the Coronavirus outbreak. The advice covers concrete preparedness and response recommendations at points of entry in the EU, as well as the wider European Economic Area (EEA) countries.
The new materials are intended to raise awareness of operators and their crews about the measures they must take to minimize health risks to crews, passengers and the wider public.
---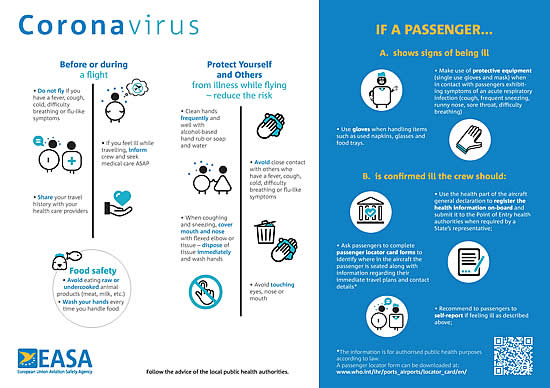 ---
In addition, EASA recommends that operators should ensure that;
A sufficient quantity of drinking water is available onboard prior to departure.

A sufficient number of gloves is available onboard prior to departure.

Disinfectant gel is made available to the crew and passengers.

While on the ground with passengers onboard, the maximum time without air conditioning/ventilation should be less than 30 minutes.
According to the World Health Organisation (WHO), common signs of Corona infection include 'respiratory symptoms, fever, cough, shortness of breath and breathing difficulties'.
WHO standard recommendations to prevent infection spread include 'regular hand washing, covering mouth and nose when coughing and sneezing, thoroughly cooking meat and eggs. Avoid close contact with anyone showing symptoms of respiratory illness such as coughing and sneezing'.
More information and resouces: DG SANTE Summary Report | WHO website
EBAA will provide further updates as appropriate.