Brazil
Flapper becomes Wyvern's first certified broker in Brazil
Flapper, Brazil's leading on-demand private aviation company, has announced its association with Wyvern - the independent and globally-recognized leader in aviation safety risk management.
By earning the status of Wyvern-certified broker, Flapper becomes the first company of its kind in Brazil to be in compliance with Wyvern's safety requirements. A local air taxi operator Líder Aviação has previously joined the list.
Wyvern's Membership Program Manager, Gina Herlihy, welcomed the company's debut on the list: "Wyvern is proud to announce our first ever Certified Broker in Brazil," she said. "This further establishes the global Wyvern safety footprint as we partner with companies in Latin America."
The Latin American region currently boasts of six Wyvern-certified operators, including four in Mexico, one in Argentina and one in Brazil.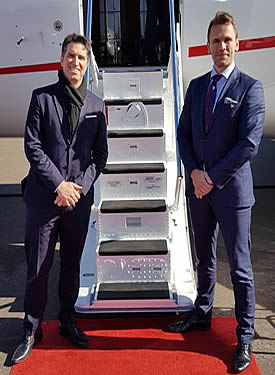 For Paul Malicki, Flapper's CEO, Wyvern membership is a consequence of nearly 4 years of safety-focused operations and data-driven decision making. "For us, safety means two things: culture and data, says Malicki.
"The ultimate objective is to create a mindset in our organization, where all flights are accompanied by appropriate safety processes, based on the information we gather about each aircraft, operator, route, airport or pilot."
Today, the Brazilian market boasts more than 450 Part 135-certified helicopters and airplanes, out of which the company works with 350 aircraft, having previous implemented proprietary audit processes.
With regard to safety, the company further emphasizes the key role of partnerships with air taxi operators. In the last 12 months, Flapper has chartered aircraft belonging to more than 40 safety-vetted providers in Brazil.
Flavio Carvalho, Director of Sales (L) and CEO Paul Malicki.
Its focus lies in scheduled pay-per-seat flights for which it selected just two operators, each with outstandingly good safety records. The company says that out 116 Part 135 operators in Brazil, 104 effectively offer executive charter services, what makes it the second largest executive aviation charter in the world, right after the US.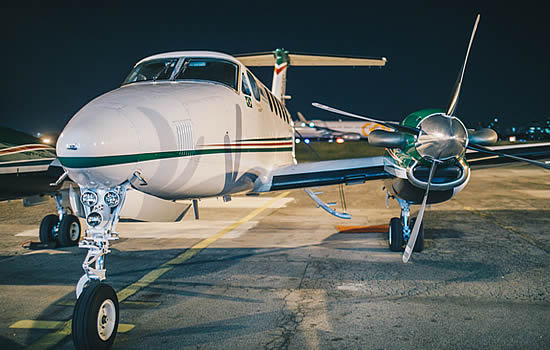 KIng Air B200 GT
Among its success factors, Flapper's management points to the careful choice of operators. This has helped the company to maintain an accident-free safety record since its founding.
In the coming months, Flapper intends to integrate with the API of ANAC (National Civil Aviation Agency of Brazil), what will allow each user of his mobile app access real-time safety information about each operator and aircraft. The year 2020 will also mark its first expansion abroad, with Argentina, Mexico and Colombia, all on the radar of the company.