Montreal, Canada
INGENIO Aerospace products selected for in-service Dassault Falcon fleet
Adding style, innovation and functionality to cabin and cockpit of Falcon aircraft
INGENIO Aerospace, developers of innovative aircraft cabin and cockpit solutions, announced that Dassault Falcon Jet has selected INGENIO products for use on in-service Falcon 2000, Falcon 900 and Falcon 7X aircraft.
INGENIO 'plug & play' cabin products integrate with in-flight entertainment (IFE) systems to provide users with USB-driven solutions for personal electronic devices (PEDs). A line of cabin receptacles has been developed to accommodate INGENIO products in all Falcon cabin interiors, allowing clients to deploy INGENIO's suite of products, including a variety of cabin tablet arms, depending on individual needs. Together, receptacles and arms offer passengers convenient, comfortable and stylish access to PEDs, and significant enhancements to existing IFE systems.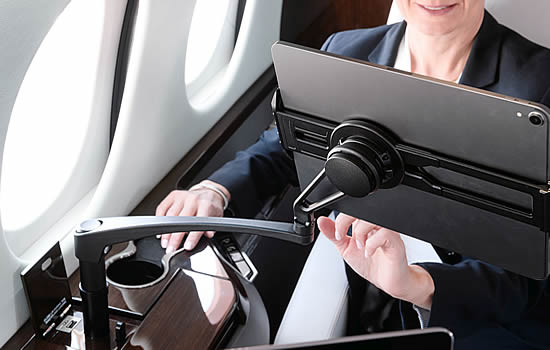 INGENIO Aerospace cabin receptacle and cabin tablet arm deployed on a Dassault Falcon 900.
Dassault and INGENIO have developed cabin receptacles and tablet arms that update in-service cabins to interoperate with the latest consumer technologies. These solutions have been developed jointly to cost-effectively modernize Falcon interiors and are available on most Falcon 2000, Falcon 900 and Falcon 7X aircraft.
Additionally, the Falcon cockpit tablet electronic flight bag (EFB) by INGENIO has been approved for in-service Falcon 2000 EASy and Falcon 900 EASy aircraft. It is a versatile and easy-to-use tablet mount engineered to meet the latest certification standards, including flammability.
"We are pleased to be working with the INGENIO team," says Olivier Langeard, Director of Aftermarket Programs and Business Development, Dassault Falcon Jet. "These innovative products increase the ease-of-use of handheld devices making the cabin more comfortable for passengers and the cockpit more efficient for pilots – enhancing the experience for all. We are confident that our valued clients will benefit from the integration of INGENIO products on their in-service Falcon jets."
"We are proud to be working with Dassault, a business aviation pioneer," adds James Bell, President and CEO, INGENIO Aerospace. "We are dedicated to innovation, design excellence and enriching the in-flight experience. Our products make the cabin more comfortable and the cockpit more efficient. We invite owners and operators to contact their authorized Falcon dealer or service center to see how INGENIO can help improve their journey."