United Kingdom
Banning private jets in the UK? Facts to consider
By Marc Bailey, CEO, BBGA
The UK Labour Party's pledge last week to ban corporate aircraft by 2025 is controversial and emotive indeed.
Whether it makes it into its Election manifesto or not, The British Business and General Aviation Association (BBGA), as the influential voice for business aviation in the UK, is obliged to highlight that such a sweeping statement shows a worrying lack of understanding of the business aviation industry and of the impact such a measure would have on the UK's economy, GDP, employment and the facilitation of business to and from the UK.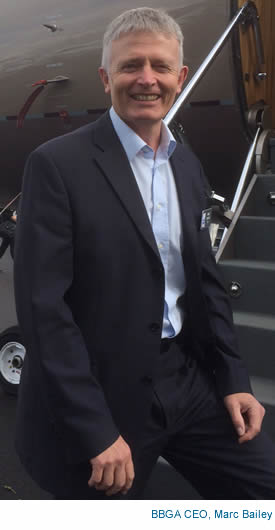 Europe has less than 3,000 corporate aircraft registered in Europe, including air ambulance models, which perform 1,000 medical flights per month and save hundreds of lives. Several scheduled airlines run small jets and turboprops, not just for their premium passengers, but because they are highly effective at quickly repositioning crew and carrying spare parts for vital AOG situations (i.e. aircraft grounded while awaiting maintenance or spare parts). Business aviation in Europe, including turboprops like the King Air and Pilatus PC-12, contribute 7% of aviation traffic.
Aviation contributes 2% of global emissions and business aviation accounts for 2% of that. At a time when our sector's highly publicised prime focus is to deliver sustainable alternative fuel (SAF) as quickly as possible, pioneer new forms of propulsion, explore better and more efficient use of airspace to make a positive impact on the environment, we cordially invite the leader of the Labour Party, Jeremy Corbyn, and his advisors to consult with us.
The Labour Government's Think Tank is wrong to suggest that commercial general aviation activities are the preserve of high net worth individuals. Rather, over 65% of routes flown are 'business enabling,' because a direct, scheduled air service simply does not exist. For savvy industry executives the options are corporate charter, join a fractional programme, buy flying 'hours' in a corporate aircraft or have their own corporate aircraft. Suggestions of banning private jets in the UK will mean that business owners and executives cannot grow their businesses and meet the highly competitive demands of international trade.
On top of the 50 airports reached both by scheduled airlines and business aviation, another 100 airports in the UK can only be connected by business aircraft. Our dedicated business aviation airports and small airfields mean that business owners and users can get to where they need to go, quickly and efficiently, on their own demanding itinerary, taking in multiple cities in one day and meeting the continuously escalating demands of doing business, internationally.
Then there is the value our industry contributes:
€ 87 billion of output
€ 32 bn in Gross Value Added (GVA)
€25 bn in wages and salaries.
374,000 jobs across Europe directly or indirectly dependent on business aviation.
More jobs will be created with the arrival of the next generation eVTOL/hybrid aircraft designs and in Europe the UK is leading the way with 19 designs, according to recent research by Vertical Flight.
Yet while they are an important part of our sustainability drive, hand in hand with being able to raise required funding and proving the technology, there remain important regulatory and infrastructure matters to address, which means we are some years away from seeing fully fledged autonomous passenger vehicles.
UK studies show that strong access for business aviation is the third most important factor in encouraging inward investment, so let's not discount the value of corporate aircraft owners and users flying in and out of the UK. These individuals contribute exponentially to trade and business growth within the UK. The more world business leaders are welcomed into a country, the greater the chance of inward investment, the more employment, the greater the generation of GDP and the subsequent tax yield - both corporation and personal taxation - from employees and the businesses themselves. Also, let's not forget the secondary and tertiary indirect employment by local companies and professional firms supporting those businesses and employees.
At a time of profound change for the UK during and post Brexit, when we need to be leading the way and encouraging international trade with the UK, the very people helping us to address the necessary changes in building a sustainable future, face the prospect of being hindered from entering or leaving the UK efficiently to help initiate and promote that change for the greater good of the UK.
The UK is in the top three ranked countries for business travel in Europe, alongside Germany and France, with 60% business aviation movements passing through these three countries. Taking the UK out of that network would have a profound impact on business activities, with much of the UK financial services relying on the crucial links that business aviation provides. Not only would the UK risk losing 140,000 direct and indirect jobs, the impact on our GDP would be £8bn per annum - with direct and indirect losses.
Such a dangerous precedent would certainly jeopardise important commercial general aviation activities including air ambulance flights; emergency flights, support for remote communities, etc, not to mention the airports that support them – that also train tomorrow's commercial airline pilots.
Let's do our utmost to encourage the growth of our sector so we can facilitate an accelerated plan for sustainability. Let's not weaponise aviation in the current political arena, but be positive and grow aviation to help sustain the UK and its ability to do business internationally and at home.
BBGA's annual conference on 5th March, 2020 at Luton Hoo will focus on the theme 'Flight to Sustainability.'
See also:
NBAA and IBAC renounce calls for restricting UK airport access for business aircraft