NBAA-BACE
FlightSafety and Gulfstream prepare for G700 training
New Cessna Citation Latitude simulator to be installed in Europe
FlightSafety International and Gulfstream Aerospace are preparing to provide training for the new Gulfstream G700 aircraft.
"We are pleased to once again be selected by Gulfstream to support the development of a new aircraft," said David Davenport, President & CEO. "This further demonstrates the trust and confidence Gulfstream has in FlightSafety's ability and commitment to provide the highest quality training and outstanding service owners and operators of the new G700 aircraft deserve and expect."
The design of a new FlightSafety FS1000 full flight simulator for the Gulfstream G700 is underway. The simulator is being built concurrently with the design and development of the aircraft and will be integral to the flight test program. The simulator will be installed at the FlightSafety Learning Center in Savannah, Georgia which is adjacent to Gulfstream's main facility. The start of Customer training will coincide with entry into service of the aircraft. Additional training locations will be determined by FlightSafety and Gulfstream in accordance with Customer needs.
The advanced technology systems and components installed in this new FlightSafety FS1000 simulator will include the CrewView collimated glass mirror display, VITAL 1150 Visual System, electric motion cueing, and advanced instructor operating station. The simulator will also feature tightly integrated computer hardware and software across subsystems which allows for more accurate and higher fidelity simulation than found in other current and previous generation simulators.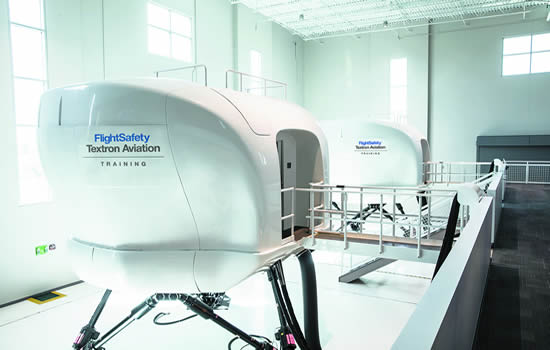 New Cessna Citation Latitude simulator to be installed in Europe
FlightSafety Textron Aviation Training has announced the upcoming installation of a new simulator for the Cessna Citation Latitude aircraft in Europe. The exact location will be determined based on Customer needs.
"Expanding our Citation Latitude training program to Europe will provide our Customers with another conveniently located high quality training option," said David Davenport.
"We expect that many Latitude owners and operators based in Europe and the surrounding region will take advantage of the EASA specific training programs our highly qualified and experienced instructors will provide," said Brian Moore, CEO, FlightSafety Textron Aviation Training.
The simulator will be manufactured by TRU Simulation + Training. It will be equipped with FlightSafety's VITAL 1150 visual system which offers an extensive database of airports that meet the specific training needs of operators in the region. The simulator is expected to enter service by the end of 2020 following Level D qualification.