2019 Travel Risk Map now available
Reveals latest medical and security risk ratings around the world
Volatility in the world demands vigilance and awareness to rapidly evolving circumstances. The 2019 Travel Risk Map provides a comprehensive overview of risks by destination to help organisations and their flight departments in mitigating travel risks.
The Travel Risk Map is produced annually by MedAire's parent company, International SOS, and Control Risks.
"The Travel Risk Map captures risk from a global perspective, allowing businesses, managers, and the individual traveller to visualize potential trouble spots associated with upcoming travel destinations," said John Cauthen, Director of Security, MedAire and Control Risks.
MedAire and Control Risks provide aviation security services to mitigate risks to crew, passengers, and aircraft.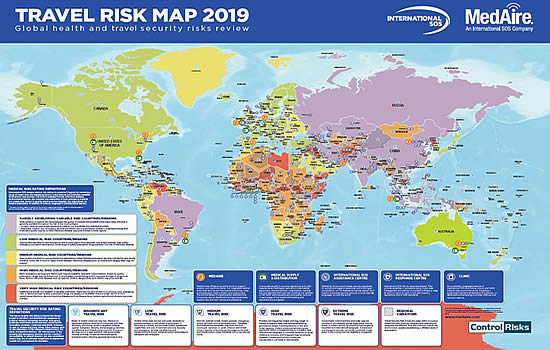 "In an increasingly volatile but interconnected world, aviation operators need to ensure they have access to the most pertinent security information and services for their operations," continued Cauthen. "Referencing the Travel Risk Map is the first step, beginning at the macro-level, to proactively build proper situational awareness."
Medical Risk Ratings are determined by assessing a range of health risks and mitigating factors, including: infectious diseases, environmental factors, medical evacuation data, the standard of local medical care, availability of quality pharmaceutical supplies.
Travel Security Risk Ratings are based on the current threat posed to travellers by political violence (including terrorism, insurgency, politically motivated unrest and war), social unrest (including sectarian, communal and ethnic violence) as well as violent and petty crime. Infrastructure and environment are also considered where they are of sufficient magnitude to impact risks to travellers.