| | |
| --- | --- |
| | ood news is always welcome and the decision to allow single-engine turboprops (SETPs) to carry out commercial air transport (CAT) operations in Europe was certainly a tremendous boost for our industry. |
Although we donít currently operate any SETPs at Luxaviation UK, we were very pleased to hear of the European Commissionís new ruling in March this year. Owners, operators and manufacturers of SETPs such as the Pilatus PC-12 NG and Daherís TBM family are no doubt thrilled. All moves to expand the reach of business aviation should be applauded.
The freedom to fly in instrument meteorological conditions and at night certainly opens up the charter potential of SETPs in Europe. This freedom has already been granted in other parts of the world, which no doubt influenced this decision from the European Aviation Safety Agency (EASA) and European Commission. (The new ruling covers all 32 current EASA member states.) The safety record of SETPs flying CAT operations in North America, for example, is very reassuring.
There will be operational challenges ahead and some charter customers may still need time to be convinced of the safety of SETPs in bad weather or at night. Operators will need to work hard to reposition SETPs in the public mind as desirable charter aircraft Ė addressing issues such as noise and speed compared to jet aircraft Ė and will need to overcome a natural hesitancy in using both a single crew member and propeller. There will, of course, be paperwork too. Thereís always paperwork! Charter companies will rightly need to prove operational, training, maintenance and equipment standards are being met.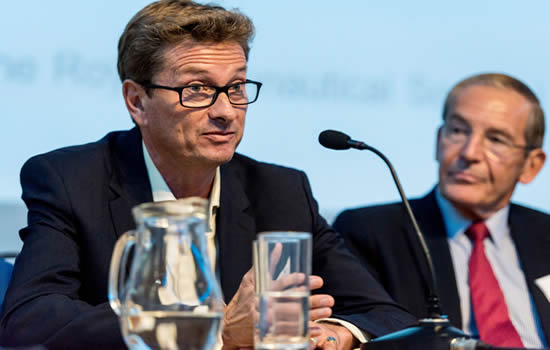 Patrick Margetson-Rushmore discusses SET aircraft for business and pleasure alongside EBAA's Brian Humphries at SETOps 2017 | Photo: billypix.com
Nonetheless, problems will be solved and paperwork will be completed. The potential growth of business aviation through the increased use of SETPs is exciting. These aircraft offer many qualities that appeal to charter operators. The cabins can be spacious and comfortable. Economically, studies suggest SETP operations can reduce fuel bills by 20-30% compared to operations with twin-engined aircraft. And, of course, there will be savings from the reduced crew required. Passing on these savings will help bring customers into business aviation who were previously unable to meet the market prices. And the ability of SETPs to serve shorter runways than larger business aircraft will help operators access new locations (perhaps with lower landing charges than busier and more established airfields), flying passengers closer than ever before to their desired destinations. Furthermore, new aircraft entering the market, such as the Cessna Denali, will offer state-of-the-art technology to help remove any doubts about the use of SETPs for CAT operations.
We should also remember expanded usage of SETPs will create entry-level positions for young pilots and wider support roles. Iíll back any moves that boost employment and bring more people to work in the world of business aviation.
Now the industry has approved SETPs for charter, all operators are sure to be evaluating SETP operations. At Luxaviation UK, weíre always looking to optimise our fleet. Our customers would undoubtedly welcome the attractive pricing that results from the low operating costs of SETPs.